Review by

AllTheBestFights.com

:
2019-08-24, amazing pace with some tremendous exchanges especially in the second part of the bout:
Kouzi vs Tatsuya Oiwa
is one of the
best kickboxing fights of 2019
and it gets four stars!
The formr ISKA Lw world champion Kouzi entered this fight with a professional kickboxing record of 26-13-0 (9 knockouts); he lost to Takeru at the end of 2018 (4-stars fight, Takeru vs Koji) but he came back to win against Jan Szajko in 2019.
His opponent, Tatsuya Oiwa, has an official record of 17-5-0 (6 knockouts); he had also suffered his last defeat in December 2018, with Kotaro Shimano but then he has won over Kyohei Hayashi and Ryusei Ashizawa. Kouzi vs Oiwa is the main event of K-1 World GP 2019 Japan. Watch the video and rate this fight!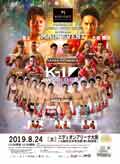 Event: K-1 World GP 2019 Japan
Date: 2019-08-24
Where: Edion Arena Osaka, Osaka, Japan
Division: featherweight (126 lbs, 57.2 kg)
Result: Click here to show the fight's result
Kouzi def. Tatsuya Oiwa (split decision at extra round)
Kouzi vs Oiwa full fight video:
(Free embeddable video hosted on Youku/hula8 and not uploaded by AllTheBestFights)
Official video