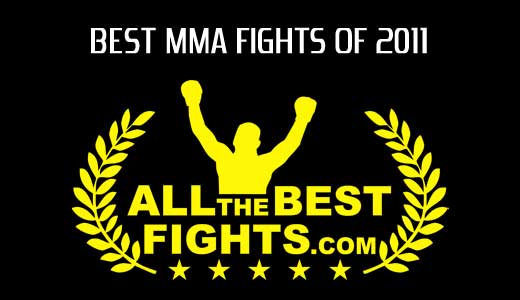 Here you can find the best mma videos of 2011 that we have rated.
Clicking on the name of the fighter you can view and rate the video of the fight (if it is available on the web) and read some info about it. However, you do not find a link for all the fighting because we create a single post just for the 4 and 5 stars fights or for the most important ones.
Comment this post if you want to suggest your favourite mma fights and to help us creating the best fighting database of all the most spectacular fights!
See also the USERS MMA RANKING of 2011

Updated 2012-01-03
All The Best MMA Fights of 2011

2011-11-19 – Dan Henderson vs Mauricio Shogun Rua
2011-08-06 – Rashad Evans vs Tito Ortiz 2
2011-06-26 – Cheick Kongo vs Patrick Barry

2011-12-10 – Jon Jones vs Lyoto Machida
2011-12-03 – Diego Brandao vs Dennis Bermudez
2011-11-26 – Marius Zaromskis vs Bruno Carvalho
2011-11-19 – Michael Chandler vs Eddie Alvarez
2011-09-10 – Paul Daley vs Jordan Radev
2011-08-14 – Benson Henderson vs Jim Miller
2011-07-30 – Dan Henderson vs Fedor Emelianenko
2011-04-30 – Pablo Garza vs Yves Jabouin
2011-03-26 – Richard Hale vs Nik Fekete
2011-03-12 – Patricky Freire vs Rob McCullough
2011-02-12 – Antonio Silva vs Fedor Emelianenko
2011-02-12 – Chad Griggs vs Gian Villante
2011-01-29 – Nick Diaz vs Evangelista Cyborg Santos
2011-01-07 – Ovince St Preux vs Ron Abongo Humphrey

2011-12-31 – Yusup Saadulaev vs Hideo Tokoro
2011-12-31 – Bibiano Fernandes vs Antonio Banuelos
2011-12-31 – Katsunori Kikuno vs Yuichiro Nagashima
2011-12-30 – Jim Hettes vs Nam Phan
2011-12-30 – Johny Hendricks vs Jon Fitch
2011-12-17 – Cristiane "Cyborg" Santos vs Hiroko Yamanaka
2011-12-16 – Daniel Pineda vs Gilbert Jimenez
2011-12-16 – Doo Ho Choi vs Mitsuhiro Ishida
2011-12-10 – Frank Mir vs Antonio Rodrigo Nogueira 2
2011-12-10 – Antonio Rogerio Nogueira vs Tito Ortiz
2011-12-10 – Chan Sung Jung vs Mark Hominick
2011-12-10 – Constantinos Philippou vs Jared Hamman
2011-12-10 – Jim Wallhead vs Joey Villasenor
2011-12-09 – Artiom Damkovsky vs Jose Figueroa 2
2011-12-09 – Alexander Sarnavskiy vs Sergio Cortez
2011-12-09 – Bao Quach vs Alvin Cacdac
2011-12-03 – John Dodson vs TJ Dillashaw
2011-12-03 – Johnny Bedford vs Louis Gaudinot
2011-12-02 – Dustin Ortiz vs Josh Rave
2011-11-27 – Glover Teixeira vs Ricco Rodriguez
2011-11-26 – Jorgen Kruth vs Yusuke Kawaguchi
2011-11-26 – Marcin Held vs Phillipe Nover
2011-11-26 – Artur Sowinski vs Maciej Jewtuszko
2011-11-26 – Mamed Khalidov vs Jesse Taylor
2011-11-20 – Mairbek Taisumov vs Joshua Thorpe
2011-11-19 – Wanderlei Silva vs Cung Le
2011-11-19 – Urijah Faber vs Brian Bowles
2011-11-19 – Michael McDonald vs Alex Soto
2011-11-19 – Marlon Sandro vs Rafael Dias
2011-11-19 – Hector Lombard vs Trevor Prangley
2011-11-19 – Cosmo Alexandre vs Avery McPhatter
2011-11-18 – Lumumba Sayers vs Antwain Britt
2011-11-18 – Adlan Amagov vs Anthony Smith
2011-11-18 – Trevor Smith vs TJ Cook
2011-11-12 – Junior dos Santos vs Cain Velasquez
2011-11-12 – Benson Henderson vs Clay Guida
2011-11-12 – Ricardo Lamas vs Cub Swanson
2011-11-12 – DaMarques Johnson vs Clay Harvison
2011-11-12 – Alexandre Bezerra vs Douglas Evans
2011-11-12 – Magomed Malikov vs Aleksander Emelianenko
2011-11-05 – Mark Munoz vs Chris Leben
2011-11-05 – Renan "Barao" Pegado vs Brad Pickett
2011-11-05 – Thiago Alves vs Papy Abedi
2011-11-05 – Terry Etim vs Edward Faaloloto
2011-11-05 – Che Mills vs Chris Cope
2011-11-05 – Nico Verresen vs Rumina Sato
2011-11-05 – Damian Grabowski vs Joaquim Ferreira
2011-11-05 – Andrei Arlovski vs Travis Fulton
2011-10-30 – Jadamba Narantungalag vs Adrian Pang
2011-10-29 – Nick Diaz vs BJ Penn
2011-10-29 – Roy Nelson vs Mirko Filipovic
2011-10-29 – Donald Cerrone vs Dennis Siver
2011-10-29 – Bart Palaszewski vs Tyson Griffin
2011-10-29 – Thiago Santos vs Neil Grove
2011-10-29 – Eric Prindle vs Ron Sparks
2011-10-22 – Eduardo Dantas vs Ed West
2011-10-15 – Alexander Shlemenko vs Brian Rogers
2011-10-15 – Zach Makovsky vs Ryan Roberts
2011-10-14 – Vinny Magalhaes vs Mikhail Zayats
2011-10-08 – Chael Sonnen vs Brian Stann
2011-10-08 – Nam Phan vs Leonard Garcia 2
2011-10-08 – Joe Lauzon vs Melvin Guillard
2011-10-08 – Ben Saunders vs Luis Santos
2011-10-08 – Douglas Lima vs Chris Lozano
2011-10-07 – Adam Lynn vs Curtis Demarce
2011-10-07 – Steve Bosse vs Houston Alexander
2011-10-01 – Dominick Cruz vs Demetrious Johnson
2011-10-01 – Matt Wiman vs Mac Danzig
2011-10-01 – Blagoi Ivanov vs Zak Jensen
2011-10-01 – Eric Prindle vs Abe Wagner
2011-10-01 – Aurel Pirtea vs Iulian Hrehrorec
2011-09-24 – Nate Diaz vs Takanori Gomi
2011-09-24 – Tatsuya Kawajiri vs Joachim Hansen
2011-09-24 – Takeshi Inoue vs Caol Uno
2011-09-24 – Bibiano Fernandes vs Takafumi Otsuka
2011-09-24 – Masakazu Imanari vs Abel Cullum
2011-09-24 – Marcos Galvao vs Chase Beebe
2011-09-23 – Lorenz Larkin vs Nick Rossborough
2011-09-23 – Ryan Couture vs Maka Watson
2011-09-17 – Bryan Baker vs Jared Hess
2011-09-17 – TJ Waldburger vs Mike Stumpf
2011-09-17 – Lance Benoist vs Matt Riddle
2011-09-16 – Andrew Craig vs Eric Schambari
2011-09-10 – Daniel Cormier vs Antonio Silva
2011-09-10 – Luke Rockhold vs Ronaldo Jacare Souza
2011-09-10 – Chris Lozano vs Brent Weedman
2011-09-10 – Ben Saunders vs Chris Cisneros
2011-09-10 – Jim Wallhead vs Frank Trigg
2011-09-03 – Eduard Folayang vs A Sol Kwon
2011-08-27 – Mauricio Rua vs Forrest Griffin 2
2011-08-27 – Antonio Rodrigo Nogueira vs Brendan Schaub
2011-08-25 – Hacran Dias vs Eddie Hoch
2011-08-20 – Pat Curran vs Marlon Sandro
2011-08-20 – Seth Petruzelli vs Ricco Rodriguez
2011-08-14 – Chris Lytle vs Dan Hardy
2011-08-14 – Jared Hamman vs CB Dollaway
2011-08-12 – Nate James vs Danillo Villefort
2011-08-12 – Derrick Mehmen vs Roy Jones
2011-08-06 – Vitor Belfort vs Yoshihiro Akiyama
2011-08-06 – Dennis Hallman vs Brian Ebersole
2011-08-06 – Jorge Rivera vs Costantinos Philippou
2011-07-30 – Tim Kennedy vs Robbie Lawler
2011-07-30 – Tarec Saffiedine vs Scott Smith
2011-07-23 – Marlon Sandro vs Nazareno Malegarie
2011-07-22 – Bobby Voelker vs Roger Bowling
2011-07-22 – Ovince St Preux vs Joe Cason
2011-07-18 – Kuniyoshi Hironaka vs Kotetsu Boku
2011-07-18 – Yasuhiro Urushitani vs Yuki Shojo
2011-07-16 – Gegard Mousasi vs Hiroshi Izumi
2011-07-16 – Hiroyuki Takaya vs Kazuyuki Miyata
2011-07-08 – Arthur Guseinov vs Tyson Jeffries
2011-07-08 – Eddie Arizmendi vs Jason Norwood
2011-07-02 – Dominick Cruz vs Urijah Faber 2
2011-07-02 – Tito Ortiz vs Ryan Bader
2011-07-02 – Melvin Guillard vs Shane Roller
2011-06-26 – Charlie Brenneman vs Rick Story
2011-06-26 – Matt Mitrione vs Christian Morecraft
2011-06-26 – Joe Lauzon vs Curt Warburton
2011-06-26 – Charles Oliveira vs Nik Lentz
2011-06-25 – Pat Curran vs Luis Palomino
2011-06-25 – Nazareno Malegarie vs Jacob Devree
2011-06-18 – Josh Barnett vs Brett Rogers
2011-06-18 – Jorge Masvidal vs KJ Noons
2011-06-11 – Sam Stout vs Yves Edwards
2011-06-11 – Nick Ring vs James Head
2011-06-11 – Mark Munoz vs Demian Maia
2011-06-11 – Dave Herman vs Jon Olav Einemo
2011-06-11 – Chris Weidman vs Jesse Bongfeldt
2011-06-04 – Clay Guida vs Anthony Pettis
2011-05-29 – Joachim Hansen vs Mitsuhiro Ishida
2011-05-29 – Hideo Tokoro vs Yoshiro Maeda
2011-05-28 – Travis Browne vs Stefan Struve
2011-05-28 – Tim Newman vs Grzegorz Tredowski
2011-05-28 – Siyar Bahadurzada vs Tommy Depret
2011-05-28 – Demetrious Johnson vs Miguel Torres
2011-05-28 – Brian Stann vs Jorge Santiago
2011-05-21 – Tom Watson vs Murilo Rua
2011-05-21 – Sam Alvey vs Karl Amoussou
2011-05-21 – Michal Materla vs James Zikic
2011-05-21 – Mamed Khalidov vs Matt Lindland
2011-05-21 – Jan Blachowicz vs Toni Valtonen
2011-05-14 – Michael Chandler vs Patricky Freire
2011-04-30 – Lyoto Machida vs Randy Couture
2011-04-30 – Jose Aldo vs Mark Hominick
2011-04-30 – Jason MacDonald vs Ryan Jensen
2011-04-30 – Benson Henderson vs Mark Bocek
2011-04-28 – Juan Manuel Suarez Montesdeoca vs Arsen Temirkhanov
2011-04-23 – Jared Hess vs Chris Bell
2011-04-22 – Luiz Andrade I vs Yutaka Ueda
2011-04-16 – Zach Makovsky vs Chad Robichaux
2011-04-09 – Nick Diaz vs Paul Daley
2011-04-09 – Michael Chandler vs Lloyd Woodard
2011-04-09 – Gilbert Melendez vs Tatsuya Kawajiri
2011-04-02 – Patricky Freire vs Toby Imada
2011-04-02 – Ben Saunders vs Matt Lee
2011-04-01 – Lorenz Larkin vs Scott Lighty
2011-03-26 – D.J. Linderman vs Raphael Davis
2011-03-26 – Chan Sung Jung vs Leonard Garcia
2011-03-26 – Amir Sadollah vs DaMarques Johnson
2011-03-19 – Michal Materla vs Gregory Babene
2011-03-19 – Jon Jones vs Mauricio Rua
2011-03-19 – Daniel Straus vs Nazareno Malegarie
2011-03-19 – Brendan Schaub vs Mirko Filipovic
2011-03-12 – Michael Chandler vs Marcin Held
2011-03-05 – Waachiim Spiritwolf vs Jaime Jara
2011-03-05 – Guram Gugenishvili vs Maxim Grishin
2011-03-05 – Brent Weedman vs Dan Hornbuckle
2011-03-03 – Brian Bowles vs Damacio Page 2
2011-02-27 – Tiequan Zhang vs Jason Reinhardt
2011-02-27 – Brian Ebersole vs Chris Lytle
2011-02-27 – B.J. Penn vs Jon Fitch
2011-02-25 – Shoji Maruyama vs Tomoya Kato
2011-02-25 – Hiroshi Nakamura vs Masakazu Imanari
2011-02-18 – Ryan Larson vs Erik Apple
2011-02-12 – Sergei Kharitonov vs Andrei Arlovski
2011-02-12 – Josh LaBerge vs Anthony Leone
2011-02-12 – John Cholish vs Marc Stevens
2011-02-12 – Nick Newell vs Denis Hernandez
2011-02-06 – Seiya Kawahara vs Takumi Murata
2011-02-05 – Paul Taylor vs Gabe Ruediger
2011-02-05 – Donald Cerrone vs Paul Kelly
2011-02-05 – Anderson Silva vs Vitor Belfort
2011-01-29 – Ronaldo Souza vs Robbie Lawler
2011-01-28 – Jason High vs Rudy Bears
2011-01-22 – Yves Edwards vs Cody McKenzie
2011-01-22 – Melvin Guillard vs Evan Dunham
2011-01-22 – Matt Wiman vs Cole Miller
2011-01-07 – Rhadi Ferguson vs John Richard
2011-01-01 – Frankie Edgar vs Gray Maynard 2
2011-01-01 – Brad Tavares vs Phil Baroni

2011-12-31 – Fedor Emelianenko vs Satoshi Ishii
2011-12-31 – Shinya Aoki vs Satoru Kitaoka
2011-12-31 – Hiroyuki Takaya vs Takeshi Inoue
2011-12-31 – Megumi Fujii vs Karla Benitez
2011-12-31 – Tatsuya Kawajiri vs Kazuyuki Miyata
2011-12-31 – Bibiano Fernandes vs Rodolfo Marques Diniz
2011-12-30 – Alistair Overeem vs Brock Lesnar
2011-12-30 – Nate Diaz vs Donald Cerrone
2011-12-30 – Alexander Gustafsson vs Vladimir Matyushenko
2011-12-17 – Gilbert Melendez vs Jorge Masvidal
2011-12-17 – Gegard Mousasi vs Ovince St Preux
2011-12-17 – KJ Noons vs Billy Evangelista
2011-12-16 – Wilson Reis vs Bruno Menezes
2011-12-16 – Timothy Elliott vs Jens Pulver
2011-12-11 – Ruben Villareal vs Don Frye 2
2011-12-10 – Brian Ebersole vs Claude Patrick
2011-12-10 – Igor Pokrajac vs Krzysztof Soszynski
2011-12-10 – Dennis Hallman vs John Makdessi
2011-12-10 – Yves Jabouin vs Walel Watson
2011-12-10 – Mark Bocek vs Nik Lentz
2011-12-10 – Jimi Manuwa vs Antony Rea
2011-12-10 – Andre Winner vs Diego Gonzalez
2011-12-09 – Yasubey Enomoto vs Shamil Zavurov 2
2011-12-09 – Tyson Jeffries vs Eddie Arizmendi
2011-12-09 – Soa Palelei vs Matt Walker
2011-12-03 – Michael Bisping vs Jason Miller
2011-12-03 – Tony Ferguson vs Yves Edwards
2011-11-26 – Patricky Freire vs Kurt Pellegrino
2011-11-26 – Eduardo Dantas vs Alexis Vila
2011-11-26 – Mariusz Pudzianowski vs James Thompson 2
2011-11-26 – Jan Blachowicz vs Rameau Thierry Sokoudjou 2
2011-11-26 – Michal Materla vs Matt Horwich
2011-11-26 – Adriano Martins vs Neilson Gomes
2011-11-20 – Fedor Emelianenko vs Jeff Monson
2011-11-20 – Daniel Weichel vs Jose Figueroa
2011-11-20 – Alexander Yakovlev vs Juan Manuel Suarez
2011-11-20 – Yuri Ivlev vs Jerome Bouisson
2011-11-19 – Martin Kampmann vs Rick Story
2011-11-19 – Stephan Bonnar vs Kyle Kingsbury
2011-11-19 – Ryan Bader vs Jason Brilz
2011-11-18 – Derek Brunson vs Nate James
2011-11-12 – Dustin Poirier vs Pablo Garza
2011-11-12 – Darren Uyenoyama vs Norifumi Yamamoto
2011-11-12 – Douglas Lima vs Ben Saunders
2011-11-12 – Alexander Shlemenko vs Vitor Vianna
2011-11-05 – Anthony Perosh vs Cyrille Diabate
2011-11-05 – Mikihito Yamagami vs Junji Ikoma
2011-11-05 – Tomasz Drwal vs Gary Padilla
2011-11-05 – Michal Kita vs Ricco Rodriguez
2011-11-05 – Juan Barrantes vs Maciej Gorski
2011-11-05 – Evan Cutts vs Reagan Penn
2011-10-29 – Scott Jorgensen vs Jeff Curran
2011-10-29 – Hatsu Hioki vs George Roop
2011-10-29 – Ben Askren vs Jay Hieron
2011-10-22 – Alexis Vila vs Marcos Galvao
2011-10-22 – Travis Wiuff vs Christian M'Pumbu
2011-10-22 – Ricardo Tirloni vs Steve Gable
2011-10-21 – Paul Daley vs Luigi Fioravanti
2011-10-21 – Jamie Varner vs Nate Jolly
2011-10-15 – Vitor Vianna vs Bryan Baker
2011-10-15 – Jacob Kirwan vs Rene Nazare
2011-10-14 – Kenny Garner vs Maxim Grishin
2011-10-14 – Arthur Guseinov vs Eddie Arizmendi
2011-10-14 – Yasubey Enomoto vs Josh Thorpe
2011-10-14 – Daniel Madrid vs Tom Gallicchio
2011-10-08 – Frankie Edgar vs Gray Maynard 3
2011-10-08 – Jose Aldo vs Kenny Florian
2011-10-08 – Ronnie Mann vs Kenny Foster
2011-10-07 – Kajan Johnson vs Richie Whitson
2011-10-07 – Patrick Cote vs Crafton Wallace
2011-10-01 – Stefan Struve vs Pat Barry
2011-10-01 – Anthony Johnson vs Charlie Brenneman
2011-10-01 – Neil Grove vs Mike Hayes
2011-10-01 – Ron Sparks vs Mark Holata
2011-09-24 – Jon Jones vs Quinton Jackson
2011-09-24 – Josh Koscheck vs Matt Hughes
2011-09-24 – Mark Hunt vs Ben Rothwell
2011-09-24 – Shinya Aoki vs Rob McCullough
2011-09-24 – Yan Cabral vs Kazushi Sakuraba
2011-09-24 – Satoru Kitaoka vs Willamy Freire
2011-09-24 – Gerald Harris vs Kazuhiro Nakamura
2011-09-24 – Antonio Banuelos vs Hideo Tokoro
2011-09-24 – Rodolfo Marques vs Yusup Saadulaev
2011-09-24 – Alexis Vila vs Joe Warren
2011-09-24 – Eduardo Dantas vs Wilson Reis
2011-09-24 – Ed West vs Luis Alberto Nogueira
2011-09-23 – Jason High vs Todd Moore
2011-09-23 – Brian Melancon vs Felipe Portela
2011-09-23 – Shawn Jordan vs Lavar Johnson
2011-09-17 – Jake Ellenberger vs Jake Shields
2011-09-17 – Court McGee vs Dongi Yang
2011-09-17 – Alan Belcher vs Jason MacDonald
2011-09-17 – Evan Dunham vs Shamar Bailey
2011-09-17 – Vagner Rocha vs Cody McKenzie
2011-09-17 – Brian Rogers vs Victor O'Donnell
2011-09-17 – Alexander Shlemenko vs Zelg Galesic
2011-09-17 – Vitor Vianna vs Sam Alvey
2011-09-16 – Adriano Martins vs Diego Braga
2011-09-16 – Bruno Santos vs Paulo Henrique Garcia Rodrigues
2011-09-14 – Ronys Torres vs Drew Fickett
2011-09-14 – Antonio Braga Neto vs Maiquel Jose Falcao Goncalves
2011-09-10 – Josh Barnett vs Sergei Kharitonov
2011-09-10 – Pat Healy vs Maximo Blanco
2011-09-10 – Jordan Mein vs Evangelista Cyborg Santos
2011-09-10 – Douglas Lima vs Steve Carl
2011-09-10 – Luis Santos vs Dan Hornbuckle
2011-09-03 – Yoshiyuki Yoshida vs Phil Baroni
2011-08-27 – Anderson Silva vs Yushin Okami 2
2011-08-27 – Edson Barboza vs Ross Pearson
2011-08-27 – Stanislav Nedkov vs Luiz Cane
2011-08-27 – Andrei Arlovski vs Ray Lopez
2011-08-27 – Kendall Grove vs Joe Riggs
2011-08-26 – Koichiro Matsumoto vs Tatsunao Nagakura
2011-08-25 – Glover Teixeira vs Marvin Eastman
2011-08-20 – Rene Nazare vs Juan Barrantes
2011-08-14 – Donald Cerrone vs Charles Oliveira
2011-08-14 – Duane Ludwig vs Amir Sadollah
2011-08-13 – Jens Pulver vs Coty Wheeler
2011-08-12 – Joe Duarte vs Jorge Gurgel
2011-08-12 – Pat Healy vs Eric Wisely
2011-08-06 – Rory MacDonald vs Mike Pyle
2011-08-06 – Matt Hamill vs Alexander Gustafsson
2011-08-05 – Glover Teixeira vs Antonio Mendes
2011-07-30 – Paul Daley vs Tyron Woodley
2011-07-23 – Pat Curran vs Ronnie Mann
2011-07-22 – Devin Cole vs Shawn Jordan
2011-07-18 – Masakatsu Ueda vs Rumina Sato
2011-07-17 – Yoshiyuki Yoshida vs Ferrid Kheder
2011-07-16 – Hideo Tokoro vs Masakazu Imanari
2011-07-16 – Tatsuya Kawajiri vs Drew Fickett
2011-07-16 – Tatsuya Mizuno vs Trevor Prangley
2011-07-09 – Jack Mason vs Norman Paraisy
2011-07-09 – Joseph Duffy vs Francis Heagney
2011-07-08 – Daniel Weichel vs Beau Baker
2011-07-08 – Kenny Garner vs Pat Bennett
2011-07-08 – Mairbek Taisumov vs Josh Bacallao
2011-07-02 – Wanderlei Silva vs Chris Leben
2011-07-02 – Carlos Condit vs Dong Hyun Kim
2011-07-02 – Dennis Siver vs Matt Wiman
2011-07-02 – Rafael dos Anjos vs George Sotiropoulos
2011-06-26 – Matt Brown vs John Howard
2011-06-25 – Marlon Sandro vs Genair da Silva
2011-06-25 – Ronnie Mann vs Adam Schindler
2011-06-24 – Caros Fodor vs James Terry
2011-06-24 – Matt Ricehouse vs Ryan Couture
2011-06-24 – Lorenz Larkin vs Gian Villante
2011-06-24 – Jason High vs Quinn Mulhern
2011-06-18 – Alistair Overeem vs Fabricio Werdum
2011-06-18 – Daniel Cormier vs Jeff Monson
2011-06-18 – Chad Griggs vs Valentijn Overeem
2011-06-11 – Kenny Florian vs Diego Nunes
2011-06-11 – Junior dos Santos vs Shane Carwin
2011-06-11 – Joey Beltran vs Aaron Rosa
2011-06-11 – Donald Cerrone vs Vagner Rocha
2011-06-10 – Marcus Davis vs Pete Spratt
2011-06-10 – Dhiego Lima vs Jamie Toney
2011-06-10 – Brian Cobb vs Drew Fickett
2011-06-04 – Tony Ferguson vs Ramsey Nijem
2011-06-04 – Scott Jorgensen vs Ken Stone
2011-06-04 – Reuben Duran vs Francisco Rivera
2011-06-04 – Kyle Kingsbury vs Fabio Maldonado
2011-06-04 – George Roop vs Josh Grispi
2011-06-04 – Ed Herman vs Tim Credeur
2011-05-29 – Shinya Aoki vs Rich Clementi
2011-05-29 – Masakazu Imanari vs Kenji Osawa
2011-05-29 – Atsushi Yamamoto vs Yusaku Nakamura
2011-05-28 – Tim Boetsch vs Kendall Grove
2011-05-28 – Rick Story vs Thiago Alves
2011-05-28 – Joseph Duffy vs Oriol Gaset
2011-05-28 – Jake Hecht vs Craig White
2011-05-28 – Gleison Tibau vs Rafaello Oliveira
2011-05-28 – Frank Mir vs Roy Nelson
2011-05-28 – Chris Fields vs Mario Stapel
2011-05-21 – Patricio Freire vs Daniel Straus
2011-05-21 – James Thompson vs Mariusz Pudzianowski
2011-05-21 – Frank Trigg vs John Phillips
2011-05-21 – Christian M'Pumbu vs Richard Hale
2011-05-21 – Artur Sowinski vs Cengiz Dana
2011-05-14 – Hector Lombard vs Falaniko Vitale
2011-05-14 – Alexander Shlemenko vs Brett Cooper
2011-05-07 – Ron Sparks vs Vince Lucero
2011-05-07 – Jay Hieron vs Rick Hawn
2011-05-07 – David Rickels vs Richard Bouphanouvong
2011-05-07 – Chase Beebe vs Jose Vega
2011-05-07 – Bryan Baker vs Joe Riggs
2011-05-03 – Kota Okazawa vs Katsuya Inoue
2011-04-30 – Vladimir Matyushenko vs Jason Brilz
2011-04-30 – John Makdessi vs Kyle Watson
2011-04-30 – Ivan Menjivar vs Charlie Valencia
2011-04-30 – Georges St Pierre vs Jake Shields
2011-04-30 – Attila Ucar vs Bob Sapp
2011-04-29 – Kyoji Horiguchi vs Takahiro Hosoi
2011-04-29 – Koetsu Okazaki vs Shuichiro Katsumura
2011-04-29 – Hatsu Hioki vs Donald Sanchez
2011-04-28 – Vinny Magalhaes vs Viktor Nemkov
2011-04-28 – Shamil Zavurov vs Yasubey Enomoto
2011-04-28 – Alexander Yakovlev vs Christian Eckerlin
2011-04-23 – Ronnie Mann vs Josh Arocho
2011-04-23 – Richard Hale vs DJ Linderman
2011-04-23 – Christian M'Pumbu vs Tim Carpenter
2011-04-22 – Eiji Mitsuoka vs Jung Gyung Lee
2011-04-16 – Patricio Freire vs Wilson Reis
2011-04-16 – Josh Cavan vs Tamboura Gerl
2011-04-16 – Joe Warren vs Marcos Galvao
2011-04-16 – Jake Paul vs Jarome Hatch
2011-04-16 – Daniel Straus vs Kenny Foster
2011-04-09 – Shinya Aoki vs Lyle Beerbohm
2011-04-09 – Jay Hieron vs Brent Weedman
2011-04-09 – Gegard Mousasi vs Keith Jardine
2011-04-09 – Eric Prindle vs Josh Burns
2011-04-09 – Ben Askren vs Nick Thompson
2011-04-08 – Marcus Davis vs Curtis Demarce
2011-04-08 – Douglas Lima vs Terry Martin
2011-04-02 – Rick Hawn vs Lyman Good
2011-04-02 – Eddie Alvarez vs Pat Curran
2011-04-01 – Justin Wilcox vs Rodrigo Damm
2011-04-01 – James Terry vs Josh Thornburg
2011-04-01 – Caros Fodor vs David Douglas
2011-03-26 – Tim Carpenter vs Daniel Gracie
2011-03-26 – Phil Davis vs Antonio Rogerio Nogueira
2011-03-26 – Michael McDonald vs Edwin Figueroa
2011-03-26 – Mackens Semerzier vs Alex Caceres
2011-03-26 – John Hathaway vs Kris McCray
2011-03-26 – Christian Morecraft vs Sean McCorkle
2011-03-26 – Christian M'Pumbu vs Chris Davis
2011-03-26 – Anthony Johnson vs Dan Hardy
2011-03-25 – Vinny Magalhaes vs Jake Doerr
2011-03-25 – Magomed Sultanakhmedov vs Tyson Jeffries
2011-03-25 – Jose Figueroa vs Artiom Damkovsky
2011-03-25 – Alexander Sarnavskiy vs Beau Baker
2011-03-25 – Aaron Rosa vs Abe Wagner
2011-03-19 – Wilson Reis vs Zac George
2011-03-19 – Urijah Faber vs Eddie Wineland
2011-03-19 – Rameau Thierry Sokoudjou vs Jan Blachowicz
2011-03-19 – Patricio Freire vs Georgi Karakhanyan
2011-03-19 – Niko Puhakka vs Maciej Gorski
2011-03-19 – Nick Catone vs Costantinos Philippou
2011-03-19 – Nate Marquardt vs Dan Miller
2011-03-19 – Mamed Khalidov vs James Irvin
2011-03-19 – Luis Artur Cane Jr vs Eliot Marshall
2011-03-19 – Kenny Foster vs Eric Larkin
2011-03-19 – Jim Miller vs Kamal Shalorus
2011-03-19 – Erik Koch vs Raphael Assuncao
2011-03-19 – Edson Barboza Jr vs Anthony Njokuani
2011-03-13 – Motonobu Tezuka vs Hiroshi Tomita
2011-03-12 – Lloyd Woodard vs Carey Vanier
2011-03-11 – Danillo Villefort vs Matt Horwich
2011-03-06 – Ryuta Noji vs Hee Seok Song
2011-03-05 – Tim Kennedy vs Melvin Manhoef
2011-03-05 – Shamil Zavurov vs Tom Gallicchio
2011-03-05 – Lyman Good vs Chris Lozano
2011-03-05 – Dan Henderson vs Rafael Cavalcante
2011-03-05 – Chase Beebe vs Steve Kinnison
2011-03-03 – Shane Roller vs Thiago Tavares
2011-03-03 – Igor Pokrajac vs Todd Brown
2011-03-03 – Diego Sanchez vs Martin Kampmann
2011-03-03 – Danny Castillo vs Joe Stevenson
2011-03-03 – Chris Weidman vs Alessio Sakara
2011-02-27 – Yutaka Ueda vs Joon Won Lee
2011-02-27 – Michael Bisping vs Jorge Rivera
2011-02-27 – Mark Hunt vs Chris Tuchscherer
2011-02-27 – Kyle Noke vs Chris Camozzi
2011-02-27 – Dennis Siver vs George Sotiropoulos
2011-02-27 – Alexander Gustafsson vs James Te Huna
2011-02-26 – Yusuke Kasuya vs Yohei Ota
2011-02-26 – Shin Kochiwa vs Kazuya Satomoto
2011-02-26 – Paul Daley vs Yuya Shirai
2011-02-25 – Takeshi Yamazaki vs Katsunori Tsuda
2011-02-25 – Drew Fickett vs Matt Veach
2011-02-18 – Ryan Couture vs Lee Higgins
2011-02-18 – Pat Healy vs Lyle Beerbohm
2011-02-18 – David Douglas vs Nick Gonzalez
2011-02-18 – Carlo Prater vs Bryan Travers
2011-02-12 – Shane del Rosario vs Lavar Johnson
2011-02-12 – Igor Gracie vs John Salgado
2011-02-05 – Kyle Kingsbury vs Ricardo Romero
2011-02-05 – Jon Jones vs Ryan Bader
2011-02-05 – John Maguire vs Dean Amasinger
2011-02-05 – Jake Ellenberger vs Carlos Eduardo Rocha
2011-02-05 – Demetrious Johnson vs Norifumi Yamamoto
2011-02-05 – Chad Mendes vs Michihiro Omigawa
2011-02-04 – Rick Hawn vs Jim Wallhead
2011-01-29 – Josh Cavan vs Matt McAnachy
2011-01-29 – Herschel Walker vs Scott Carson
2011-01-28 – Jason High vs Rudy Bears
2011-01-28 – Drew McFedries vs Gary Tapusoa
2011-01-28 – Anthony Gutierrez vs Jacob Aiken
2011-01-28 – Aaron Derrow vs Rich Clementi
2011-01-22 – Matt Mitrione vs Tim Hague
2011-01-22 – Pat Barry vs Joey Beltran
2011-01-22 – Mark Hominick vs George Roop
2011-01-22 – DaMarques Johnson vs Mike Guymon
2011-01-07 – Daniel Cormier vs Devin Cole
2011-01-01 – Daniel Roberts vs Greg Soto
2011-01-01 – Diego Nunes vs Mike Thomas Brown
2011-01-01 – Dustin Poirier vs Josh Grispi
2011-01-01 – Clay Guida vs Takanori Gomi
2011-01-01 – Thiago Silva vs Brandon Vera
2011-01-01 – Brian Stann vs Chris Leben

2011-12-31 – Antonio Banuelos vs Masakazu Imanari
2011-12-16 – Maro Perak vs Bob Sapp
2011-11-26 – Eric Prindle vs Thiago Santos
2011-11-12 – Robert Peralta vs Mackens Semerzier
2011-11-12 – Roger Hollett vs John Hawk
2011-11-05 – Tim Sylvia vs Andreas Kraniotakes
2011-10-29 – Cheick Kongo vs Matt Mitrione
2011-10-07 – Ryan Jimmo vs Rameau Thierry Sokoudjou
2011-10-07 – Eric Barrak vs Butterbean Eric Esch
2011-09-24 – Travis Browne vs Rob Broughton
2011-09-17 – Erik Koch vs Jonathan Brookins
2011-09-14 – Rivaldo Junior vs Andre Leocadio
2011-09-14 – Satoshi Ishii vs Paulo Filho
2011-09-10 – Muhammed Lawal vs Roger Gracie
2011-08-26 – Mizuto Hirota vs Katsunori Kikuno
2011-08-20 – Cole Konrad vs Paul Buentello
2011-08-13 – Houston Alexander vs Razak Al-Hassan
2011-06-10 – Robert Washington vs Curtis Demarce
2011-06-04 – Chris Cope vs Chuck O'Neil
2011-05-29 – Takeshi Inoue vs Koichiro Matsumoto
2011-05-29 – Katsunori Kikuno vs Daisuke Nakamura
2011-05-29 – Caol Uno vs Akiyo Nishiura
2011-05-28 – Quinton Jackson vs Matt Hamill
2011-05-21 – Matt Ewin vs Ivan Salaverry
2011-05-06 – Jorge Lopez vs Waachim Spiritwolf
2011-05-06 – Gerald Harris vs Anthony Ruiz
2011-05-06 – Farkhad Sharipov vs Tommy Vargas
2011-04-29 – Takeshi Inoue vs Taiki Tsuchiya
2011-04-28 – Andrei Semenov vs Luigi Fioravanti
2011-04-08 – Ryan Jimmo vs Zak Cummings
2011-04-08 – Pete Spratt vs Demi Deeds
2011-04-08 – Hermes Franca vs Robert Washington
2011-03-26 – Mike Russow vs Jon Madsen
2011-03-25 – Bobby Lashley vs John Ott
2011-03-19 – Mike Pyle vs Ricardo Almeida
2011-03-19 – Joseph Benavidez vs Ian Loveland
2011-03-19 – Gleison Tibau vs Kurt Pellegrino
2011-03-12 – Toby Imada vs Josh Shockley
2011-03-11 – Eric Davila vs Alex Cisne
2011-03-05 – Jorge Masvidal vs Billy Evangelista
2011-03-05 – Jay Hieron vs Anthony Lapsley
2011-03-05 – Daniel Weichel vs Magomedrasul Khasbulaev
2011-03-03 – Mark Munoz vs C.B. Dollaway
2011-03-03 – Cyrille Diabate vs Steve Cantwell
2011-02-27 – Ross Pearson vs Spencer Fisher
2011-02-27 – Nick Ring vs Riki Fukuda
2011-02-27 – Curt Warburton vs Maciej Jewtuszko
2011-02-26 – Ricco Rodriguez vs James McSweeney
2011-02-26 – Alex Makhonin vs Xavier Foupa-Pokam
2011-02-25 – Kazuhisa Tazawa vs Yuji Sakuragi
2011-02-12 – Valentijn Overeem vs Ray Sefo
2011-02-05 – Miguel Torres vs Antonio Banuelos
2011-02-05 – Forrest Griffin vs Rich Franklin
2011-01-29 – Roger Gracie vs Trevor Prangley
2011-01-28 – Abe Wagner vs Tim Sylvia
2011-01-22 – Rani Yahya vs Mike Brown
2011-01-07 – Tyron Woodley vs Tarec Saffiedine
2011-01-01 – Jacob Volkmann vs Antonio McKee
2011-01-01 – Jeremy Stephens vs Marcus Davis
2011-01-01 – Dong Hyun Kim vs Nate Diaz