Review by

AllTheBestFights.com

:
2015-04-05,
Mathias Gallo Cassarino vs Puenyai Payyakka Mpan
gets four stars thanks to one of the
best muay thai knockouts of the year
!
The 22-year-old Mathias Gallo Cassarino, also known as Mathias Muay Farang, entered this fight with a professional kickboxing record of 38-20-4 (13 knockouts) and he is ranked as the No.9 lightweight in the world while his opponent, Puenyai Payyakka Mpan (or Puenyai Payupkampan), has an official record of 90-15-5. Mathias has already fought twice in 2015 beating a Cambodian fighter but then he lost to Ayoub El Khaidar in France (controversial decision) while the Thai Puenyai has recently won the WMC title. Mathias vs Puenyai is the final of the Max Muay Thai 8 4-man tournament -62kg; in the semifinals the Italian defeated Issam Arabat-Ziane while Puenyai beat Ruslan Berdyev (also known as Ruslam Rusthaiteam). Watch the video and rate this fight!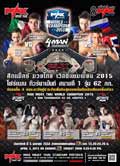 Event: Max Muay Thai 8 – 2015
Date: 2015-04-05
Where: Max Muay Thai Pattaya Stadium, Pattaya, Thailand
Division: catchweight (136.7 lbs, 62 kg)
Title: Max Muay Thai -62kg Silver title
Result: Click here to show the fight's result
Mathias Gallo Cassarino def. Puenyai Payyakka Mpan (Ko spinning back fist at 2:00, round 2)
Video: (Free embeddable video hosted on Youtube and not uploaded by AllTheBestFights, to report it please visit this link where the video is hosted)