Review by

AllTheBestFights.com

:
2016-02-27, great action packed fight with some tough exchanges and one of the
craziest finish in kickboxing history
(if possible, we would like to rate the last round with six stars!-):
Mohammed Jaraya vs Nordin Ben Moh
is the first candidate for the
kickboxing Fight of the Year 2016
!
The 19-year-old and former -67Kg Enfusion champion Mohammed Jaraya entered this fight with a pro kickboxing record of 59-2-0 (34 knockouts) while his opponent, Nordin Ben Moh (7 years older than Jaraya), has an official record of 73-3-1 (48 knockouts). Both fighters suffered their last loss in 2014: Jaraya was defeated by Walid Hamid but then he has won seven consecutive bouts while Ben Moh lost to Harut Grigorian and then he has collected eight victories. Jaraya vs Ben Moh is the semifinal of the Enfusion -70Kg tournament; undercard of Ismael Lazaar vs Jahfarr Wilnis – Enfusion Live 37. Watch the video and rate this fight!
[php]
include("banner2.php");
[/php]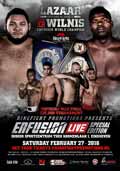 Event: Enfusion Live 37: Eindhoven
Date: 2016-02-27
Where: Indoor Sportcentrum, Eindhoven, Netherlands
Division: super welterweight (154 lbs, 69.9 kg)
Result: Click here to show the fight's result
Mohammed Jaraya def. Nordin Ben Moh (KO, round 3)
[php]
include("banner.php");
[/php]
Official video: