Review by

AllTheBestFights.com

:
2015-03-14, exciting and tough bout thanks to a great performance by two of the best light-heavyweights in the world:
Sergey Kovalev vs Jean Pascal
is one of the
best boxing fights of 2015
and it gets four stars (we had rated this fight three stars but [ we were probably drunk:-)] after watching it again we have changed our rating – March 16, 2015).
The undefeated Sergey Kovalev entered this fight with a professional boxing record of 26-0-1 (23 KOs=88%) and he is ranked as the No.2 light heavyweight in the world (currently the #1 in this division is Adonis Stevenson); he fought three times in 2014 defending twice his Wbo belt, against Cedric Agnew (=Kovalev vs Agnew) and Blake Caparello (=Kovalev vs Caparello), then he faced Bernard Hopkins in a three titles unification fight (=Hopkins vs Kovalev).
His opponent, Jean Pascal, has an official record of 29-2-1 (17 knockouts) and he entered as the No.3 in the same weight class; he suffered his last defeat in 2011 when he faced Bernard Hopkins in their rematch (fight in which Pascal lost both his Wbc and Ibo belts, Hopkins vs Pascal 2). After losing he came back to win beating Aleksy Kuziemski (=Pascal vs Kuziemski), George Blades and Lucian Bute (=Pascal vs Bute). Pascal's last bout, against Roberto Feliciano Bolonti, ended in a no-contest (=Pascal vs Bolonti). Kovalev vs Pascal is valid for the WBA, IBF and WBO world light heavyweight titles (all held by Kovalev); they also faced each other a second time on January 30, 2016 (=Kovalev vs Pascal II). Watch the video and rate this fight!
[php]
include("banner2.php");
[/php]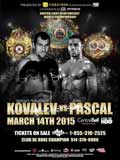 Date: 2015-03-14
Where: Bell Centre, Montreal, Canada
Division: light heavyweight (175 lbs, 79.4 kg)
Title: WBA, IBF and WBO World light heavyweight titles
Result: Click here to show the fight's result
Sergey Kovalev def. Jean Pascal (TKO at 1:03, round 8)
Kovalev's previous fight: Bernard Hopkins vs Sergey Kovalev
Pascal's previous fight: Jean Pascal vs Roberto Feliciano Bolonti
Kovalev's next fight: Sergey Kovalev vs Nadjib Mohammedi
Pascal's next fight: Jean Pascal vs Yunieski Gonzalez
[php]
include("banner.php");
[/php]
Official video:

(Alternative free embeddable video hosted on Youtube)

Official highlights