Treacherous Waters – The Trailer – Kickboxing documentary about Mark Miller
We are pleased to have received an interesting email to promote a fundraising that will be used to make a kickboxing documentary about Mark Miller.
Mark "Fight Shark" Miller grew up in Pittsburgh (Pennsylvania), he started with boxing but he also practiced Tang Soo Do, Hapkido, Uechi-ryu, Taekwondo and Muay Thai. So far so good, but in 2006 Miller failed a medical test due to a heart condition and the following year he had heart surgery. Miller's career over? No, in fact Mark Miller is the only fighter in history to come back to the ring after open heart surgery and in his first fight back he defeated Nikolaj Falin by KO in the first round (three-stars fight – May 28, 2011). Already Mark is inspiring a lot of people with his story and "Treacherous Waters" plans to make it known blackberries with this film.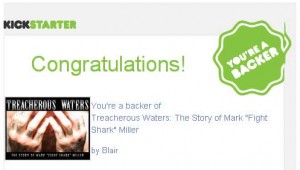 Since we believe in this project, we made a donation to "Treacherous Waters" on kickstarter.com
You can help "Treacherous Waters" too making a donation using kickstarter.com
(If you will give money you will be compensated with prizes. No money is taken until they reach their budget goal to produce this film. If they don't reach the budget then no one who pledged money is actually charged)
Promo video, special effects:

More info at: treacherouswatersmovie.com
Donation at: kickstarter.com