Metamoris IV took place at the Petersen Automotive Museum, Los Angeles and it is headlined by the fight between the former Ufc fighter Chael Sonnen and the Bjj world champion Andre Galvao. In the co-main event the black belt in Brazilian jiu-jitsu and former Ufc Hw champion Josh Barnett faced the 2003 ADCC absolute world champion Dean Lister.
The "Metamoris" superfights have different rules from the common BJJ rules: the time limit is 20 minutes instead of 10 min (as usually in the black belt fights) but the most interesting thing is that it is possible to win only by submission! If there is no submissions (or disqualifications) the fight ends in a tie.
If you want to watch the previous or next Metamoris events that we had posted, here are the links:
Metamoris 1
Metamoris 2
Metamoris 4
Metamoris 5
Metamoris 6
But now, check out the results of Metamoris 4 and watch the full fight videos after the jump!!
[php]
include("banner.php");
[/php]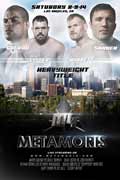 Event: Metamoris IV
Date: 2014-08-09
Where: Petersen Automotive Museum, Los Angeles, California USA
Result: Click here to show the fight's result
Andre Galvao def. Chael Sonnen (Submission rear-naked choke at 13:49)
Josh Barnett def. Dean Lister (Submission scarf choke at 19:48)
Baret Yoshida vs Jeff Glover (DRAW)
Vinny Magalhaes vs Keenan Cornelius (DRAW)
Saulo Ribeiro vs Rodrigo Medeiros (DRAW)
Garry Tonon def. Kit Dale (Submission guillotine)
METAMORIS 4 FIGHT CARD and FULL FIGHTS VIDEOS: (All the Metamoris full fight videos are free embeddable videos not hosted or uploaded by AllTheBestFights, to report it please visit the websites where the videos are hosted)
Andre Galvao vs Chael Sonnen
(Video hosted on Dailymotion)

Dean Lister vs Josh Barnett
(Video hosted on Dailymotion)

Baret Yoshida vs Jeff Glover

Keenan Cornelius vs Vinny Magalhaes

Saulo Ribeiro vs Rodrigo Medeiros


Garry Lee Tonon vs Kit Dale