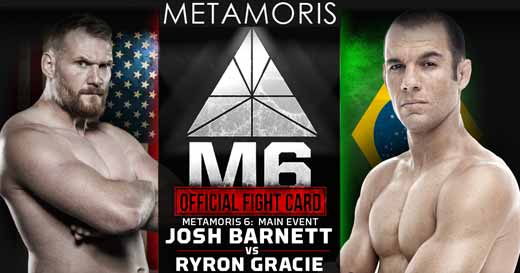 Metamoris VI took place on Saturday, May 9th, 2015 and it is headlined by honorary black belt in Brazilian jiu-jitsu and former Ufc heavyweight champion Josh Barnett and Helio Gracie's grandson Ryron Gracie in a fight valid for the Metamoris Hw title (held by Barnett). In the co-main event the ufc fighter Chael Sonnen faced the black belt in Luta Livre and Bjj and former Strikeforce light-Hw champion Renato 'Babalu' Sobral. Also on the card: Joe Lauzon vs Dillon Danis, Alexandre Ribeiro vs Keenan Cornelius, Clark Gracie vs Roberto Satoshi, Jimmy Friedrich vs Evandro Nunes (who replaced Jeff Monson).
The "Metamoris" superfights have different rules from the common BJJ rules: the time limit is 20 minutes instead of 10 min (as usually in the black belt fights) but the most interesting thing is that it is possible to win only by submission! If there is no submissions (or disqualifications) the fight ends in a tie.
If you want to watch the previous Metamoris events that we had posted, here are the links:
Metamoris 1
Metamoris 2
Metamoris 4
Metamoris 5
But now, check out the results of Metamoris 6 and watch the full fight videos after the jump!!
[php]
include("banner2.php");
[/php]
Event: Metamoris VI: Barnett vs Gracie
Date: 2015-05-09
Metamoris 6 Result:
Click here to show the fight's result
Josh Barnett def. Ryron Gracie (Submission toe hold)
Chael Sonnen vs Renato Babalu Sobral (DRAW)
Dillon Danis def. Joe Lauzon (Submission brabo choke)
Alexandre Ribeiro vs Keenan Cornelius (DRAW)
Clark Gracie vs Roberto Satoshi (DRAW)
Jimmy Friedrich vs Evandro Nunes (DRAW)
METAMORIS 6 FIGHT CARD and FULL FIGHTS VIDEOS: (All the Metamoris full fight videos are free embeddable videos not hosted or uploaded by AllTheBestFights, to report it please visit the websites where the videos are hosted)
Josh Barnett vs Ryron Gracie
Chael Sonnen vs Renato Babalu Sobral
[php]
include("banner.php");
[/php]
Joe Lauzon vs Dillon Danis
Alexandre Ribeiro vs Keenan Cornelius
Clark Gracie vs Roberto Satoshi
Jimmy Friedrich vs Evandro Nunes