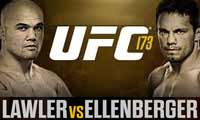 Review: 2014-05-24, some good single shots between Robbie Lawler and Jake Ellenberger but it is not enough to get three stars. The black belt in karate Robbie Lawler entered this fight with a mma record of 22-10-0 (86% finishing rate) and he is ranked as the No.6 welterweight in the world, last year he returned to the Ww division and he won three out of three fights but in 2014 he lost to Johny Hendricks in a bout valid for the Ufc Ww title (=Hendricks vs Lawler).
His opponent, Jake Ellenberger, has a record of 29-7-0 (79% finishing rate) and he entered as the No.12 in the same weight class, last year he fought twice defeating Nate Marquardt (=Ellenberger vs Marquardt) but then he lost to Rory MacDonald (=Ellenberger vs MacDonald). Lawler vs Ellenberger is on the undercard of Renan Barao vs TJ Dillashaw – UFC 173. Watch the video and rate this fight!
Event: UFC 173: Barao vs Dillashaw
Date: 2014-05-24
Where: MGM Grand Garden Arena, Las Vegas, Nevada, USA
Division: welterweight (170 lbs, 77 kg)
Result: Click here to show the fight's result
Robbie Lawler def. Jake Ellenberger (TKO at 3:06, round 3)
UFC 173 fight card (main card):
Renan Barao vs TJ Dillashaw
Dan Henderson vs Daniel Cormier
Robbie Lawler vs Jake Ellenberger
Takeya Mizugaki vs Francisco Rivera
Jamie Varner vs James Krause
Lawler's previous fight: Johny Hendricks vs Robbie Lawler
Ellenberger's previous fight: Jake Ellenberger vs Rory MacDonald
Lawler's next fight: Robbie Lawler vs Matt Brown
Ellenberger's next fight: Jake Ellenberger vs Kelvin Gastelum
[php]
include("banner.php");
[/php]
Video:
We are sorry, but since we have been contacted by "UFC – Zuffa", we post only video highlights of the fight (as soon as we find it). If you have seen the full fight video you can rate it. THANKS!
(Free highlights video hosted on Youtube)