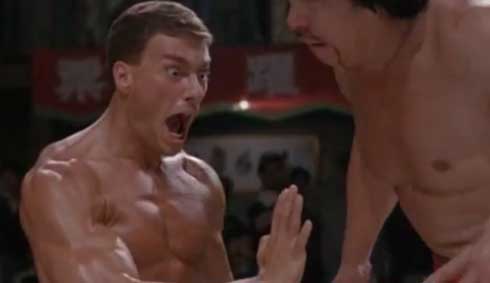 This is crazy. Totally crazy. And we know what you think: this can't happen. This's bullsh*t. And surely it will not happen. But if it happens…oh my God!
Jean-Claude Van Damme, the actor of Bloodsport, Kickboxer, Double Impact and lately The Expendables 2, could return to fight for real in December 2012 against Somrak Kamsing, former boxing Olympic gold-medalist and muay thai fighter (also known as Somluck Kamsing).
There was a lot of talking about this match, starting from 2010, but this time could be the right time. Obviously there is nothing official, but there are 2 interviews (see the videos) where JCVD talks about his will to face Kamsing and fight for real, after 30 years (I repeat: 30 years) from his last match (against Nedjad Gharbi in 1982, victory by KO). His staff thinks that his comeback could be too dangerous. Van Damme is 52 years old, had several health problem and would be the first man over the age of 50 to kickbox professionally. His answer? Simple: "It's kind of dangerous, but life is short."
December could be a month really full of surprises: Kimbo Slice vs Roy Jones Jr, Manny Pacquiao vs Buakaw Por Pramuk, Jean-Claude Van Damme vs Somrak Kamsing.
What do you think we'll find under the Christmas tree? Nightmares or Dreams?
If you keep following us, you'll find out!
Jean-Claude Van Damme interview on May 9th 2012:

Video Jean-Claude Van Damme talks about his upcoming fight in December 2012