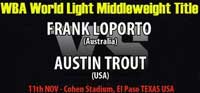 Review: 2011-11-11, nice fight between Austin Trout and Frank LoPorto: three stars. Trout knocks down LoPorto in the first round but the fight continues until the sixth round when the referee stops the bout. The undefeated Austin Trout (23-0-0) entered as the No.7 light middleweight in the world while Frank LoPorto (15-4-2) entered as the No.54. Trout vs LoPorto is valid for the WBA World light middleweight title. Watch the video!


Date: 2011-11-11
Where: Cohen Stadium, El Paso, Texas, United States
Division: light middleweight (154 lbs, 69.9 kg)
Title: WBA World light middleweight title
Result: Austin Trout def. Frank LoPorto (TKO at 2:32, round 6)
Trout's next fight: Austin Trout vs Delvin Rodriguez
[php]
include("banner.php");
[/php]
Video: we have seen and ranked this fight but at the moment we have just found the highlights. If you know a link for watch this fight send us and we will post it here. THANKS!