Review by

AllTheBestFights.com

:
2016-09-09, great action packed fight between two of the best kickboxers in the world:
Simon Marcus vs Jason Wilnis 2
is one of the
best kickboxing fights of 2016
and it gets four stars!
The Glory Mw and former Wbc muay thai light-Hw champion Simon Marcus entered this fight with a kickboxing record of 44-2-2 (24 knockouts) and he is ranked as the No.1 cruiserweight in the world. He lost to Fang Bian last year but then he has collected four victories and one draw winning the Glory Mw title in 2016, against Artem Levin (=Levin vs Marcus 3), and defended it once with Dustin Jacoby (=Marcus vs Jacoby).
His opponent, Jason Wilnis, has an official record of 28-6-1 (13 knockouts) and he entered as the No.3 in the same weight class. He lost to Joe Schilling last year (=Schilling vs Wilnis I), but he came back to win in 2016 beating Wang Chongyang, Filip Verlinden and taking revenge on Schilling (=Schilling vs Wilnis II). In their first bout Marcus defeated Wilnis via split decision (April 3, 2015, Marcus vs Wilnis I ); this second fight is valid for the Glory middleweight title and it is on the undercard of Rico Verhoeven vs Anderson Braddock Silva – Glory 33 (they also faced each other a third time on April 29, 2017, Jason Wilnis vs Simon Marcus 3). Watch the video and rate this fight!
[php]
include("banner2.php");
[/php]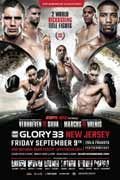 Event: Glory 33: New Jersey
Date: 2016-09-09
Where: Sun National Bank Center, Trenton, New Jersey, USA
Division: catchweight (187.4 lbs, 85 kg)
Title: Glory Middleweight Championship title
Result: Click here to show the fight's result
Jason Wilnis def. Simon Marcus (TKO at 1:14, round 3)
Marcus' previous fight: Simon Marcus vs Dustin Jacoby
Wilnis' previous fight: Joe Schilling vs Jason Wilnis 2
Marcus' next fight: Simon Marcus vs Dustin Jacoby 2
Wilnis' next fight: Jason Wilnis vs Israel Adesanya
[php]
include("banner.php");
[/php]
Video: (Free embeddable video hosted on Ok.ru and not uploaded by AllTheBestFights, to report it please visit this link where the video is hosted)