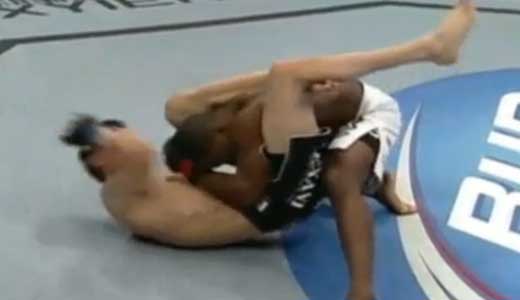 Review: 2011-04-30, the best fight of the UFC 129 was not the main event St Pierre vs Shields (or the nice KO victory of Machida over Couture), but the preliminary fight between Pablo Garza and Yves Jabouin. It was a really nice fight thanks to the high pace and the spectacular submission of Garza (flying triangle choke) that defeats the striker Jabouin, dangerous both with punches and kicks; one of the best mma fights of 2011. Watch the video!
Event: UFC 129 St Pierre vs Shields
Date: 2011-04-30
Where: Rogers Centre, Toronto, Ontario, Canada
Division: Featherweight
Result: Click here to show the fight's result
Pablo Garza def. Yves Jabouin (Submission at 4:31, round 1)
Pablo Garza's next fight: Dustin Poirier vs Pablo Garza
[php]
include("banner.php");
[/php]
Video: We are sorry, but since we have been contacted by "UFC – Zuffa", we post only video highlights of the fight. If you have seen the full fight video you can rate it. THANKS!
(This is a free embeddable highlights video hosted on Youtube and it was not uploaded by AllTheBestFights, to report it please visit this link where the video is hosted)

Alternative highlights video

FULL FIGHT VIDEO: please SHARE THIS PAGE and watch it on Youtube (video not embeddable)