Review by AllTheBestFights.com: 2020-12-19, exciting back and forth fight thanks to a great performance by both fighters: Badr Hari vs Benjamin Adegbuyi is one of the best kickboxing fights of the year 2020 and it gets four stars (take a look at our ranking of the best kickboxing fights of 2020). Moreover this match took second place in the 'Top 5 Kickboxing Fights of the Year 2020' (ranking generated by our users).
The former K-1 world champion Badr Hari entered this fight with a pro kickboxing record of 106-15-0 (92 KOs=87%) and he is ranked as the No.4 heavyweight in the world but he comes off the loss against current #1 Hw Rico Verhoeven, fight ranked in the top 10 Users' kickboxing Fight of the year 2019 (Rico Verhoeven vs Badr Hari 2). Before this bout he faced Hesdy Gerges but the bout ended in a no-contest (originally a decision win for Badr but then changed since both fighters tested positive for performance-enhancing drugs, Badr Hari vs Hesdy Gerges 2). If you want to watch Hari's best fights, here are two bouts ranked in the top 10 Users' Fight of the year, in 2013 and 2015, Badr Hari vs Zabit Samedov 3 and Badr Hari vs Ismael Londt.
His opponent, the former SuperKombat champion Benjamin Adegbuyi, has a record of 34-6-0 (19 knockouts) and he entered as the No.3 in the same weight class. He lost to Jamal Ben Saddik in 2018 but he came back to win against D'Angelo Marshall in 2019. Among the best fights of Benny Adegbuyi we suggest three fights all ranked in the top 10 Users' kickboxing Fight of the year: two in 2013 Pavel Zhuravlev vs Benjamin Adegbuyi 2 and Ismael Londt vs Benjamin Adegbuyi, and one in 2017 Benjamin Adegbuyi vs Anderson Braddock Silva. Benny vs Hari, Glory heavyweight championship eliminator, is the main event of the Glory 76. Watch the video and rate this fight!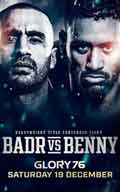 Event: Glory 76: Rotterdam
Date: 2020-12-19
Where: Undisclosed Studio, Rotterdam, Netherlands
Division: heavyweight (over 210 lbs, 95.5 kg)
Hari Adegbuyi result:
Click here to show the fight's result
Benjamin Adegbuyi def. Badr Hari (TKO at 0:50, round 3)
Hari's next fight: Badr Hari vs Arkadiusz Wrzosek
Badr vs Adegbuyi fight video / highlights:
(Free embeddable video hosted on Youtube or Dailymotion or Facebook and not uploaded by AllTheBestFights)
https://www.youtube.com/watch?v=hHBTKDuwPfQ
Official video