On Friday, November 16, there will be the Lightweight Tournament Semifinal.
In the main event, Rich 'No Love' Clementi (45-21-1) will face Marcin Held (14-2-0).
Rich Clementi, who spent eight years in the military with the Navy Seabees, has a 3 wins streak (2 consecutive guillotine choke against Derek Campos and Robert Washington, and a split decision with Alexander Sarnavskiy in the quarterfinal.
Marcin Held is a polish fighter and in his home country, he is defined "the prodigy of Polish MMA". He comes from 4 wins in a row, including a devastating submission against Derrick Kennington.
In his last match he defeated Murad Machaev at Bellator 77.
The other semifinal will see Dave Jansen vs Ricardo Tirloni.
Dave 'The Fugitive' Jansen (18-2-0) is a master of submission (11 times): ask Magomed Saadulaev about it (= Dave Jansen vs Magomed Saadulaev).
Ricardo Tirloni is a real fighter: his record is 15-2-0, and only 2 came by decision.
In his last match he submitted Rene Nazare with a very nice d'Arce Choke.
We recommend also Dustin Neace vs Marlon Sandro.
'The Monster of Rio' (22-4-0) has a great desire if revenge after the loss in the Bellator Season 6 Featherweight Tournament Final in May against Daniel Straus (= Daniel Straus vs Marlon Sandro).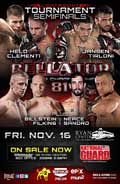 Bellator 81 fight card:
MAIN CARD
Rich Clementi vs Marcin Held
Dave Jansen vs Ricardo Tirloni
Dustin Neace vs Marlon Sandro
Jonas Billstein vs Perry Filkins
PRELIMINARY CARD
Robbie LeRoux vs Ruben Rey
Paul Barrow vs Matt Bessette
Valter Roberto vs Brennan Ward
Dan McGuane vs Mike Mucitelli
Dan Cramer vs Joe Lamoureux
Andrew Calandrelli vs Joe McGann
Event: Bellator 81
Date: 2012-11-16
Where: Ryan Center, Kingston, Rhode Island, USA
Video Bellator 81 promo: