Dan Henderson vs Lyoto Machida video amateur trailer
After a year, Dan Henderson is ready to fight. He was expected to fight Jon Jones at UFC 151 in September, but a knee injury withdrew him from the match, and the entire bout was cancelled.
Now Henderson (29-8 MMA, 6-2 UFC) has announced that he'll face Lyoto Machida (18-3 MMA, 10-3 UFC) at UFC 156 on Super Bowl weekend, even if there is not an official announcement yet.
After UFC 151 was cancelled Jon 'Bones' Jones defeated Vitor Belfort at UFC 152, and then he and Chael Sonnen were named coaches for the 17th season of "The Ultimate Fighter." Jones and Sonnen then will face at a PPV event on April 27 in Newark, N.J.
So for Henderson this is a great opportunity to begin the road to the title, since UFC President Dana White has suggested this will be a number 1 contender's match.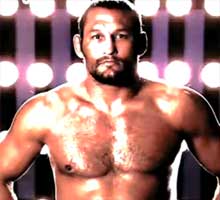 He is the former Strikeforce Light Heavyweight Champion and was the last Welterweight and Middleweight champion of Pride Fighting Championships; he has a 4 wins streak and his last two fights were epic: a TKO victory against 'The Last Emperor' Fedor Emelianenko on Luy 2011 (= Dan Henderson vs Fedor Emelianenko) and a "Fight of the Year" with Maurício Rua at UFC 139 on November 2011, his last match so far (= Shogun Rua vs Dan Henderson).
On the other hand Lyoto Machida wants to take back the title he once held. 'The Dragon' recently was on a 2-3 including a title loss to Rua, a defeat by decision to Quinton "Rampage" Jackson, and an incredible and exciting title loss to Jones (= Jon Jones vs Lyoto Machida). But he also got a Knockout of the Year 2011 against Randy Couture at UFC 129 (crane kick) and in his last match defeated Ryan Bader by KO (= Lyoto Machida vs Ryan Bader).
The latest UFC 156 card includes:
Champ Jose Aldo vs Frankie Edgar – for featherweight title (***articolo)
Dan Henderson vs Lyoto Machida (Not officially announced yet)
Rashad Evans vs Antonio Rogerio Nogueira (Not officially announced yet)
Alistair Overeem vs Antonio 'Bigfoot' Silva
Event: UFC 156: Aldo vs Edgar
Date: 2013-02-02
Where: Mandalay Bay Events Center, Las Vegas, Nevada, USA
Video Dan Henderson highlights: