Review by

AllTheBestFights.com

:
2017-02-25, spectacular finish between
Hiroshi Mizumachi and Rukiya Anpo
: this is one of the
best kickboxing fights of 2017
and it gets four stars!
Hiroshi Mizumachi (black trunks) entered this fight with a professional kickboxing record of 19-12-3 (8 knockouts) while his opponent, the 21-year-old Rukiya Anpo (16 years younger than Mizumachi), has an official record of 8-3-0 (4 knockouts). Hiroshi Mizumachi vs Rukiya Anpo is the reserve fight of the K-1 lightweight championship tournament (won by Wei Rui, who beat Ren Hiramoto in the final) and it is on the undercard of Taiga vs Urabe Hirotaka – K-1 World GP 2017 Japan. Watch the video and rate this fight!
[php]
include("banner2.php");
[/php]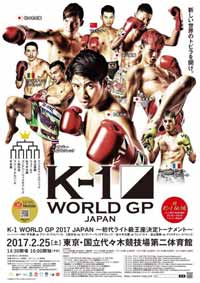 Event: K-1 World GP 2017 Japan
Date: 2017-02-25
Where: Yoyogi Stadium, Tokyo, Japan
Division: lightweight (135 lbs, 61.2 kg)
Result: Click here to show the fight's result
Rukiya Anpo def. Hiroshi Mizumachi (Ko high kick at 0:06, round 2)
[php]
include("banner.php");
[/php]
Mizumachi vs Rukiya Fight Video:
(Free embeddable video hosted on Youtube and not uploaded by AllTheBestFights)