Review by

AllTheBestFights.com

:
2016-04-24, amazing fight with some tremendous exchanges in which both fighters exchanged shot for shot:
Alexis Barateau vs Montien Sitmonchai
gets four stars but with a better finish it could be a candidate for the
Muay Thai Fight of the Year 2016
and get five!
Alexis Barateau entered this fight with a pro kickboxing record of 23-5-0 and he is ranked as the No.16 super bantamweight in the world while his opponent, Montien Sitmonchai, has an official record of 36-26-2. Both fighters have already fought in 2016, Montien has beat Nuengsiam Kiatnakornchon while Barateau has lost to Chakasuek Chor Sungprapai; before this bout Alexis was defeated also by Carlos Coello Canales and Andaman SudsakornMuaythaigym. Barateau vs Sitmonchai was on the undercard of Fahsura Sor Sor Nawat vs Jay Tonkin – MAX Muay Thai 2016. Watch the video and rate this fight!
[php]
include("banner2.php");
[/php]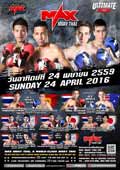 Event: MAX Muay Thai 2016
Date: 2016-04-24
Where: Max Muay Thai Stadium, Pattaya, Thailand
Division: featherweight (126 lbs, 57.2 kg)
Result: Click here to show the fight's result
Montien Sitmonchai def. Alexis Barateau (TKO, round 3)
[php]
include("banner.php");
[/php]
Video: (Free embeddable video hosted on Youtube and not uploaded by AllTheBestFights, to report it please visit this link where the video is hosted)