Review by

AllTheBestFights.com

:
2015-07-28, exciting and tough fight thanks to some brutal exchanges and spectacular elbows:
Buakaw Banchamek vs Khayal Dzhaniev
is one of the
best muay thai fights of 2015
and it gets four stars!
The two time K-1 World MAX champion Buakaw Banchamek, formerly known as Buakaw Por Pramuk, entered this fight with a professional kickboxing record of 264-42-12 (68 knockouts) and he is ranked as the No.5 super welterweight in the world while his opponent, Khayal Dzhaniev, has an official record of 10-2-0 and he entered as the No.12 welterweight. Buakaw suffered his last defeat in 2014 when he faced Enriko Kehl in the final of the K-1 World MAX (controversial ending, Buakaw vs Kehl 2) but after this bout he has won five consecutive fights beating Artem Pashporin in his last one (=Buakaw vs Pashporin). Buakaw vs Dzhaniev is the semifinal of the TopKing World Series 70kg tournament. Watch the video and rate this fight!
[php]
include("banner2.php");
[/php]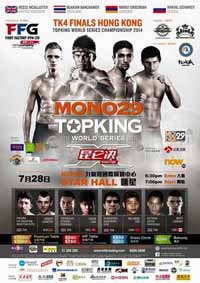 Event: TopKing World Series 4 – TK4
Date: 2015-07-28
Where: Star Hall, Hong Kong, China
Division: super welterweight (154 lbs, 69.9 kg)
Result: Click here to show the fight's result
Khayal Dzhaniev def. Buakaw Banchamek (decision)
Buakaw's previous fight: Buakaw Banchamek vs Artem Pashporin
Buakaw's next fight: Buakaw Banchamek vs Gu Hui
[php]
include("banner.php");
[/php]
Video: (Free embeddable video hosted on Youtube and not uploaded by AllTheBestFights, to report it please visit this link where the video is hosted)