Review by

AllTheBestFights.com

:
2018-09-15, tough fight with some nice combinations, this is professional boxing at his very very best:
Saul Canelo Alvarez vs Gennady Golovkin 2
is one of the
best boxing fights of 2018
and it gets four stars!
The undefeated former Olympian and current Wbc, Wba and Ibo champion Gennady Golovkin entered this fight with a pro record of 38-0-1 (34 KOs=89%) and he is ranked as the No.1 middleweight in the world. In his last three fights he has beat Daniel Jacobs in 2017 (Golovkin vs Jacobs) and Vanes Martirosyan in 2018 (Gennady Golovkin vs Vanes Martirosyan) but between these two bouts he drew with Saul Alvarez in their first fight (controversial decision, Saul Canelo Alvarez vs Gennady Golovkin).
His opponent, the former world champion in two different weight classes Saul Canelo Alvarez, has an official boxing record of 49-1-2 (34 knockouts) and he entered as the No.2 in the same weight class but he comes off the draw with 'GGG' Golovkin; they had to face again in May 2018 but the Mexican tested positive for two drug tests after their first clash. Before this bout Canelo suffered his only loss when he faced Floyd Mayweather Jr in 2013 (via majority decision, Mayweather vs Alvarez), since then Alvarez had won seven consecutive fights defeating Amir Khan (4-stars fight, Canelo vs Khan), Liam Smith (Canelo vs Smith) and Julio Cesar Chavez Jr in his last three (Canelo vs Chavez Jr). Their first fight ended in a controversial split draw (110-118 for Alvarez, 115-113 for Golovkin, 114-114) but in the CompuBox Punch Stats Canelo got just 169 punches landed out of 505 thrown (33.5%), while Gennady 218 out of 703 punches thrown (31%). Moreover, some of the most important media scored the first fight in this way: ESPN.com 116-112 for Golovkin, Harold Lederman from HBO 116-112 for Golovkin and the Associated Press 114-114. Canelo vs Golovkin 2 is valid for the IBO, WBA, WBC World middleweight titles; they also faced each other a third time on September 17, 2022 (Saul Canelo Alvarez vs Gennady Golovkin 3). Watch the video and rate this fight!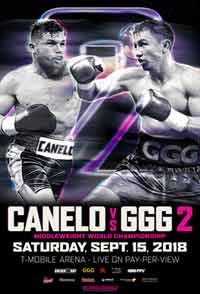 Date: 2018-09-15
Where: T-Mobile Arena, Las Vegas, Nevada, USA
Division: middleweight (160 lbs, 72.6 kg)
Title: IBO, WBA, WBC World middleweight titles
Result: Click here to show the fight's result
Saul Canelo Alvarez def. Gennady Golovkin (majority decision, 114-114, 115-113, 115-113)
Golovkin's previous fight: Gennady Golovkin vs Vanes Martirosyan
Canelo's previous fight: Saul Canelo Alvarez vs Gennady Golovkin I
Canelo's next fight: Saul Canelo Alvarez vs Rocky Fielding
Golovkin's next fight: Gennady Golovkin vs Steve Rolls
Golovkin vs Canelo Alvarez 2 full fight video:
(Free embeddable video hosted on Youtube and not uploaded by AllTheBestFights)
Official video