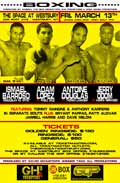 Review by

AllTheBestFights.com

:
2015-03-13, some good exchanges between
Antoine Douglas and Thomas Lamanna
but it is not enough to get three stars: it gets two.
Both undefeated, the 22-year-old Antoine Douglas (one year younger than Lamanna) entered this fight with a boxing record of 16-0-1 (10 knockouts) and he is ranked as the No.53 middleweight in the world while his opponent, Thomas Lamanna, has a perfect record of 16-0-0 (7 knockouts) and he entered as the No.96 in the same weight class. Douglas' win streak was stopped in 2014 by a draw against Michel Soro (=Soro vs Douglas) but then he came back to win beating Jose Medina and Don Mouton while Lamanna defeated Ahsandi Gibbs, Jamaal Davis and Gilbert Alex Sanchez in his last three bouts. Douglas vs Lamanna is valid for the vacant WBA Fedelatin middleweight title. Watch the video and rate this fight!
[php]
include("banner2.php");
[/php]
Date: 2015-03-13
Where: The Space at Westbury, Westbury, New York, USA
Division: middleweight (160 lbs, 72.6 kg)
Title: vacant WBA Fedelatin middleweight title
Result: Click here to show the fight's result
Antoine Douglas def. Thomas Lamanna (TKO at 2:44, round 6)
Douglas' next fight: Antoine Douglas vs Istvan Szili
[php]
include("banner.php");
[/php]
Video: (Free embeddable video hosted on Youtube and not uploaded by AllTheBestFights, to report it please visit this link where the video is hosted)