Sometimes words speak louder than actions, and this can be the case: a living kickboxing legend will provide a deep reservoir of experience for the three-man commentary team that will be calling the action for fight fans around the world at the GLORY 3 Rome 'Final 8' event at the historic PalaLottomatica arena in Rome, Italy on Saturday Nov. 3 (Glory World Series quarterfinals).
Ramon Dekkers blazed a trail for Europeans in the Muay Thai world at a time when it was thought none but native Thais could be successful in the sport and, to this day, if he enters an arena in Thailand, he will receive a standing ovation. Dekkers will provide colour commentary for the event, which will see one 70 kilogram (154 pound) tournament competitor walk away with a tournament grand prize of $300,000.
He will be supported by retired MMA legend and first-ever UFC Middleweight Champion Frank Shamrock, as well as former PRIDE Fighting Championships and Showtime colour commentator Stephen Quadros.
"These guys are the absolute pinnacle of the stand-up fighting world," said Dekkers. "GLORY kickboxers in all weight classes are the best of the best and the 70 kilogram division is a prime example of the elite level of skill in the league. These guys are so fast and so technical, but they've got power as well and aggression in spades. It should be an incredible night of fast-paced, hard-hitting action in the ring."
UPDATE ON Novembre 1, 2012: Albert Kraus has been forced to withdraw from GLORY 3 Rome due to ill health (full-blown influenza). Yoshihiro Sato has been moved into Kraus' vacant slot and Warren Stevelmans will face Dzhabar Askerov for the first reserve match.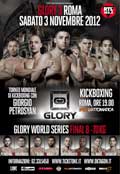 Glory 3 Rome fight card:
MAIN CARD
– Giorgio Petrosyan vs Robin van Roosmalen FINAL
– Jordan Watson vs Mustapha Haida – prestige fight 70kg
– Robin van Roosmalen vs Sanny Dahlbeck 2# SemiFinal
– Giorgio Petrosyan vs Davit Kiria 1# SemiFinal
– Alka Matewa vs Marco Re – prestige fight 72.5 kg
– Sanny Dahlbeck vs Yoshihiro Sato – 4# quarterfinal
– Robin van Roosmalen vs Tim Thomas – 3# quarterfinal
– Shemsi Beqiri vs Davit Kiria – 2# quarterfinal
– Giorgio Petrosyan vs Ky Hollenbeck – 1# quarterfinal
– Fabio Pinca vs Alessandro Campagna – reserve fight
– Dzhabar Askerov vs Warren Stevelmans – reserve fight
PRELIMINARY CARD
– Cesario di Domenico vs David Dolce – mma prestige fight 70kg
– Riccardo Lecca vs Giuseppe D'Amuri – prestige fight 72.5 Kg
– Manuele Raini vs Julian Imeri – prestige fight 70kg
– Ivan Musardo vs Giorgio Belsanti – mma prestige fight
Event: GLORY 3 Rome
Date: 2012-11-03
Where: PalaLottomatica, Rome, Italy
Video Ramon Dekkers highlights: