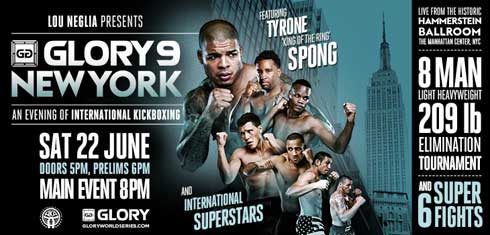 Glory 9 will take place at Manhattan Center in New York on saturday, June 22, with the first fight taking place at 6 pm EST while the main card at 8 pm. The main event of Glory 9 NY will be the one night Light Heavyweight Tournament featuring eight of the best kickboxers in this weight division: Tyrone Spong (who comes off the spectacular win against Remy Bonjasky, Michael Duut, Filip Verlinden, Steve McKinnon, Brian Collette, Dustin Jacoby, Danyo Ilunga and Mourad Bouzidi.
Amongst the names announced as participants in the Superfights of Glory 9 are: Daniel Ghita (who will face Brice Guidon, after his recent loss against Gokhan Saki), Rico Verhoeven, Errol Zimmerman, Anderson 'Braddock' Silva, Joseph Valtellini and more! Check out the Glory 9 fight card!
Moreover, for the first time, you can watch the official streaming of Glory 9 New York live on AllTheBestFights buying the access to this event for $20 (through the player above).
[php]
include("banner.php");
[/php]
Event: GLORY 9 New York
Date: 2013-06-22
Where: Manhattan Center, New York, NY, USA
GLORY 9 NY FIGHT CARD:
Light Heavyweight Tournament quarterfinals
Tyrone Spong vs Michael Duut
Filip Verlinden vs Steve McKinnon
Brian Collette vs Dustin Jacoby
Danyo Ilunga vs Mourad Bouzidi
Superfights
Rico Verhoeven vs Errol Zimmerman
Daniel Ghita vs Brice Guidon
Daniel Sam vs Anderson 'Braddock' Silva
Joseph Valtellini vs Francois Ambang
Wayne Barrett vs Mike Lemaire
Reserve fights
Artem Vakhitov vs Luis Tavares
Randy Blake vs Koichi Watanabe
Undercard
Brett Hlavacek vs Paul Marfort
Casey Greene vs Keith Berish
Andrea Deangelo vs Laura Byrnds
Abdrew Ball vs James Smith Jr
Chris Mauceri vs Niko Tsigaras
Nick Pace vs Levan Makashvili