Review by

AllTheBestFights.com

:
2016-01-02, great performance by both fighters with an outstanding finish (candidate for mma Round of the Year 2016):
Robbie Lawler vs Carlos Condit
was the UFC Fight of the Night and it gets four stars (with a better first part of the bout it could be a candidate for mma Fight of the Year 2016).
Robbie Lawler entered this fight with a professional mma record of 26-10-0 (81% finishing rate) and he is ranked as the No.1 welterweight in the world. He suffered his last loss in 2014 when he faced Johny Hendricks the first time (=Hendricks vs Lawler I) but then he has won four consecutive bouts taking revenge on Hendricks (in a fight valid for the Ufc Ww belt Hendricks vs Lawler II) and beating Rory MacDonald in his last fight (=Lawler vs MacDonald II).
His opponent, the black belt in gaidojutsu and former Ufc interim Ww champion Carlos Condit, has an official record of 30-8-0 (93% finishing rate) and he entered as the No.8 in the same weight class. He lost to Tyron Woodley in 2014 (=Condit vs Woodley) but he came back to win in 2015 defeating Thiago Alves (=Condit vs Alves). Lawler vs Condit, main event of UFC 195, is valid for the Ufc welterweight title (Lawler's second defense). Watch the video and rate this fight!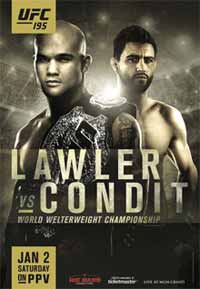 Event: UFC 195: Lawler vs Condit
Date: 2016-01-02
Where: MGM Grand Garden Arena, Las Vegas, Nevada, USA
Division: welterweight (170 lbs, 77 kg)
Title: UFC Welterweight Championship title
Result: Click here to show the fight's result
Robbie Lawler def. Carlos Condit (split decision, 48-47, 47-48, 48-47)
UFC 195 fight card (main fights):
Robbie Lawler vs Carlos Condit
Andrei Arlovski vs Stipe Miocic
Lorenz Larkin vs Albert Tumenov
Brian Ortega vs Diego Brandao
Lawler's previous fight: Robbie Lawler vs Rory MacDonald 2
Condit's previous fight: Carlos Condit vs Thiago Alves
Lawler's next fight: Robbie Lawler vs Tyron Woodley
Condit's next fight: Demian Maia vs Carlos Condit
Video:
Official video
https://www.youtube.com/watch?v=QomIMpymqas
If you encounter the "Error #2000″, use the incognito mode or use other browsers, enjoy!-)

(Free embeddable highlights video hosted on Youtube)