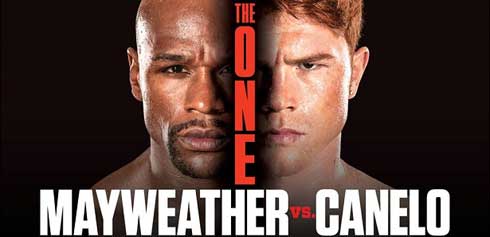 Fourth and last episode of "All Access: Mayweather vs Canelo" released some minutes ago (you can watch it at the bottom of this post). This time you can see the arrival of both boxers to Las Vegas: Floyd goes to some party or playing bowling with The Money Team while Canelo seems more focused on his last training session and his weight. In fact in this episode Saul Alvarez says: "I think the weight is the hardest part"; but as we wrote in the statistics post some days ago, they have already made the 7 day pre-fight weigh-in and the results are: 152.2 lbs for Mayweather and 157.4 lbs for Alvarez (the weight limit for the fight is 152 lbs, 68.9 kg).
Link to the fight: Floyd Mayweather Jr vs Saul 'Canelo' Alvarez
But in this episode of All Access you can also see some highlights of Canelo vs Trout, Mayweather vs Mosley and Canelo vs Mosley. In fact both boxers faced 'Sugar' Shane Mosley in their career, so it's interesting to compare how they behaved against the same opponent (and we did it two days ago in the post: Mayweather vs Canelo CompuBox Stats comparison) and what Mosley thinks about them: "Mayweather has the mastermind, but Canelo is better than what he thinks".
Before the last statements of Mayweather and Alvarez, Showtime briefly introduces also the other big fight of the night: Lucas Matthysse vs Danny Garcia. But here are Mayweather's last words: "I'm a winner, I know how to win, no matter how" while Canelo says "Saturday, Floyd and I will get in the ring. Only one will leave undefeated and that's going to be me. That night is mine". Now check out this fourth episode of "All Access: Mayweather vs Canelo"!
If you miss the previous episodes here are the links:
All Access: Mayweather vs Canelo EPISODE 1
All Access: Mayweather vs Canelo EPISODE 2
All Access: Mayweather vs Canelo EPISODE 3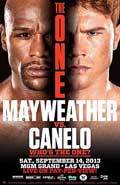 Event: THE ONE: Mayweather vs. Canelo
Date: 2013-09-14
Where: MGM Grand, Las Vegas, Nevada, USA
Division: catchweight (152 lbs, 68.9 kg)
Title: WBC and WBA Super World light middleweight titles
[php]
include("banner.php");
[/php]
Video – All Access: Mayweather vs. Canelo – Full Episode 4
Alternative video