A lot of time has passed. Ten months. It was at UFC 140 when the right arm of Antonio Rodrigo 'Minotauro' Nogueira went snap, crackle and pop under the kimura of Frank Mir (= Frank Mir vs Minotauro Nogueira).
Tomorrow the 36-year-old Brazilian will make his return facing Bellator Fighting Championships, Sengoku and EliteXC veteran Dave Herman in the UFC 153 Silva vs Bonnar co-main event at the HSBC Arena in Rio de Janeiro, Brazil.
He is confident, really hungry and excited to fight in his country: "I'm feeling good. My arm feels strong. I'm ready to go," he said during a pre-fight media call. "I was hungry to fight. I asked to fight in Brazil, and I got an opportunity to fight in Brazil. I'm recovered. I've had great training sessions. In training, I'm always being tested, so I believe if I'm training well, I'll fight well."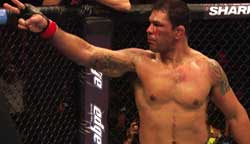 Nogueira was originally exptected to return at UFC 149 in July. However, he was forced to withdraw from a scheduled matchup with French kickboxer Cheick Kongo after he reinjured his surgically repaired arm in training. It was a bad blow for him: "I was disappointed that I couldn't take the fight in July. I had two months of training for this fight. I ate a high kick in training and blocked a kick with the formerly broken arm. I wasn't feeling good, so I had to pull out. Now, I'm going to fight in Brazil, which is a big honor for me. I'm very excited."
Dave Herman, who Herman received a significant amount of buzz from fans and media for being undefeated in his first fifteen fights and beating his opponents impressively, came from two consecutive losses, against Stefan Struve and Roy Nelson, both by punches. But he isn't afraid of Brazilian jiu-jitsu, calling it "useless".
Minotauro is ready to change Herman's mind: "My BJJ works very well," he said. "For this fight especially, I trained a lot of Brazilian jiu-jitsu. If it goes to the ground, I will go for it. He talks smack about BJJ, but he's not fought someone with submissions like me before."
Keep following as for the weigh-in and complete fight card!
Event: UFC 153: Silva vs Bonnar
Date: 2012-10-13
Where: HSBC Arena, Rio de Janeiro, Brazil
Division: heavyweight (265 lbs, 120 kg)
Video: countdown to UFC 153 Nogueira vs Herman