Tonight it's time for
Bellator 74
. The weigh-in took place at Caesar's Atlantic City, that hosts even the imminent bout.
Eighteen of the 20 fighters successfully made weight. The headliners are
Lyman Good
and Jim Wallhead, as well as the other six participants in the promotion's upcoming season 7 welterweight tournament. Good weighed 170.2 pounds,
Wallhead
169.8.
Alexandre "Popo" Bezerra
and Matt McCook did not weigh in during the proceedings but will compete at a catchweight of 157 pounds. McCook is a replacement for Jeff Smith, who failed medicals.
Another change sees a featherweight match of Casey Johnson vs Will Martinez take the place of a previously announced contest of Plinio Cruz vs Kelvin Tiller. Cruz was injured in training and the fight was cancelled.
The full Bellator 74 weigh-ins included: 
MAIN CARD – Bellator Welterweight Tournament Quarter Final
(169.8) Jim Wallhead vs Lyman Good (170.2)
(170.8) Marius Zaromskis vs Nordine Taleb (170.8)
(171) Michail Tsarev vs Tim Welch (170.4)
(170.8) Andrey Koreshkov vs Jordan Smith (169.8)
PRELIMINARY CARD
(157) Alexandre "Popo" Bezerra vs Matt McCook (157)
(144.6) Casey Johnson vs Will Martinez (144.6)
(125.8) Munah Holland vs Michelle Ould (123.8)
(154.2) Derrick Kennington vs Phillipe Nover (156)
(145.6) Jay Haas vs Brylan Van Artsdalen (145.4)
(135.8) Kenny Foster vs Claudio Ledesma (134.8)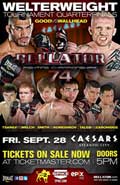 Event: Bellator 74
Date: 2012-09-28
Where: Caesars Hotel and Casino, Atlantic City, New Jersey, United States
Video Bellator 74 preview: