At the Singapore Indoor Stadium in Kallang, it's time for ONE FC 6, One Fighting Championship 6 "Rise of Kings".
The main event is a great fight between Shinya Aoki and Arnaud 'The Game' Lepont. During the weigh-in Aoki checked in at 154.1 pounds, while Lepont tipped the scales at 154.8.
Aoki is the DREAM Lightweight Champion and one of the deadliest submission specialists in the sport. He has provoked Lepont, saying he's never heard of Lepont and he's making a mistake for asking to fight him.
Aoki has always been Lepont's idol, so the French fighter was very disappointed hearing this words: "I have to be honest, yes I am (disappointed), but it helps me open my mind and get more focused about that fight. Now I know I have to go for it, to earn his respect. He says he can knock me out? Great, can't wait to see how long he will wait before trying to putting me down".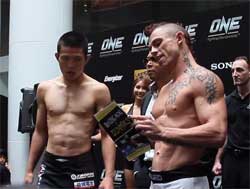 It was a great lack of respect: "I am still a fan of the legend, not of the man," said Lepont. "I have a brash and brazen attitude but I have always been respectful to my opponent. We are sportsmen. Seems that Shinya has a lack of respect for me or his fans."
Lepont is legendary for his charisma and crazy entrances, and has won his last six fights by stoppage, including his recent ONE FC debut against Aoki's Evolve MMA team mate Brian Choi.
Aoki is a veteran of 37 fights, he has faced some of the best fighters internationally and is universally regarded as one of the top lightweights in the world. But his last match was a defeat by TKO against Eddie Alvarez in April.
The event will also put on the line two world champions. Kotetsu Boku (154.5) will face Zorobabel 'Zoro' Moreira (154.3) for the ONE FC lightweight title. Moreiria is 3-0 inside the ONE FC cage with all his wins coming by way of stoppage and his "soccer kick" to Roger Huerta's head at ONE Fighting Championship: Destiny of Warriors is already legendary.
In the other title match Soo Chul Kim (135) rematches Leandro Issa (135) for the ONE FC bantamweight belt.
The main draw will also feature a middleweight fight between former Cage Rage titlist Melvin Manhoef (185) and reigning King of Pancrase Ryo Kawamura (184.3).
ONE FC 6 weigh-in results:
FIGHT CARD
(154.8) Arnaud Lepont vs Shinya Aoki (154.1)
(154.5) Kotetsu Boku vs Zorobabel Moreira (154.3)
(135) Soo Chul Kim vs Leandro Issa (135)
(184.3) Ryo Kawamura vs Melvin Manhoef (185)
(134.3) Yanfei Zhao vs Jens Pulver (135)
(135) Min Jung Song vs Masakatsu Ueda (135)
(135) Yusup Saadulaev vs Kevin Belingon (134.5)
(125) Gianni Subba vs Bruce Loh (125)
(145) Ngabdi Mulyadi vs Mitch Chilson (145)
Event: ONE FC 6: Rise of Kings
Date: 2012-10-06
Where: Singapore Indoor Stadium, Kallang, Singapore
Video ONE FC 6 weigh-in: