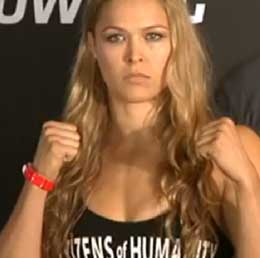 Now it's official: Ronda Rousey has signed with the UFC, becoming the first woman to step in the Octagon.
The Strikeforce women's bantamweight champion will begin fighting for the promotion in 2013, probably in the early months. The name for her first opponent is not confirmed yet, but there are rumors about Strikeforce competitor Liz Carmouche (last victory with Kaitlin Young at Invicta Fc 2). As you know, our hopes are for a Dream Fight against Cris 'Cyborg' Santos.
On the other hand, losing the women's division, the entire promotion of Strikeforce will end his glorious history following its show in January 2013. As consequence, many fighters then will transfer over to the UFC.
Neither Showtime nor Zuffa have commented on the deals, but the scheduled January 12 show for Strikeforce in Oklahoma City is expected to be the last one.
After that two shows were cancelled for the promotion between September and November, now it's probably that there will be one final "mega bout" in January before the curtains will go down.
Video Ronda Rousey highlights: