All in one night. On Saturday, November 3, it's time for GLORY 3 Rome 'Final 8' (70 kilogram/154 pound) one-night tournament at the PalaLottomatica arena in Rome, Italy.
Glory World Series Rome Final 8 quarterfinals preview
Giorgio Petrosyan vs Ky Hollenbeck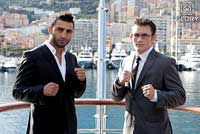 World No. 1 ranked middleweight Giorgio Petrosyan (71-1-2, 33 KO's) will face american standout Ky Hollenbeck (34-7, 21 KO's) in a very tough opening match.
Petrosyan is the two time K-1 World MAX champion (2009, 2010) and WKN Intercontinental Middleweight Muay Thai champion. His record is incredible and his only loss was 5 years ago when he dropped a decision to Nonthanan Por. Pramuk. In his last fight he defeated Fabio Pinca at Glory 1.
"I don't feel any pressure and for me, I am preparing exactly as I did for my first ever fight. People can call me number one, the favourite and so on – I don't think about it. I will be in the ring and I will do the best that I can and that's it." Giorgio said. "All the fighters here are the best in the world and I respect Ky Hollenbeck very much, I know him. I respect him very much. I don't want to say anything more than that," he said of his opponent.
Shemsi Beqiri vs Davit Kiria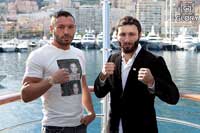 Semmy Schilt's (World No. 1 ranked heavyweight) student Davit Kiria (18-7, 10 KO's) of Netherlands was next; the karate stylist is matched with Swiss mercenary Shemsi Beqiri (71-7, 31 KO's) in what promises to be a war.
"If I win my fight and Giorgio wins his" Beqiri announced "we will meet in the semi-finals. That really wouldn't make me feel good because Giorgio is a very close friend for me, like my brother. I really don't want to have to fight Giorgio but, we will see. And Albert Kraus is also a good friend, we trained together many times. Possibly we meet in the final. I hope not but, business is business eh?"
Robin Van Roosmalen vs Tim Thomas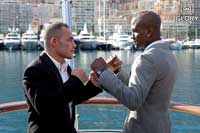 The third match, which pits English entrant Tim 'TNT' Thomas (60-1-9, 35 KO's) against KO artist (look at this left hook against Artur Kyshenko) Robin 'Pokerface' van Roosmalen (35-13-3, 10 KO's) of Netherlands in what could well be a Fight of the Year contender.
'Pokerface' loves to fight: "People say my fight with Dzhabar Askerov was the Fight of the Year for 2012 so far (= Robin van Roosmalen vs Dzhabar Askerov). Can I make another Fight of the Year contender in this Final 8 in Rome? I think so. They are all good fighters and they all come to fight so, I can make a great fight with everybody. When I fight I do my best to give a good show and win the fight so, it doesn't matter, I will have a good fight with anybody."Who do I want to fight? Everybody."
Albert Kraus vs Sanny Dahlbeck
UPDATE ON Novembre 1, 2012: Albert Kraus has been forced to withdraw from GLORY 3 Rome due to ill health (full-blown influenza). Yoshihiro Sato has been moved into Kraus' vacant slot. Yoshihiro Sato has a 49-8-0 record with 20 victories coming by way of knockout.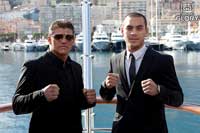 The final match saw the tournament's oldest competitor Albert Kraus (66-16-3, 39 KO's), 32, matched with its youngest, 21-year-old Swedish prodigy Sanny Dahlbeck (24-4, 14 KO's).
Kraus is a big superstar. He was the first K-1 World MAX 2002 champion and has also held four separate world titles in kickboxing and Muay Thai.
There is bad blood between Kraus and Thomas. Thomas confidently dismissed Kraus as "past it" in a recent interview and says he will "walk through him" if they meet in the tournament.
"For me it's no problem, people can say what they want. Because I don't think we will be meeting in this tournament! For me it would be great if I meet him in the semi-final but I know that will not happen," Kraus said. "I think Robin will finish him. I don't think Robin will have any problem with him."
"These tournaments are the toughest thing in fight sports," said GLORY Managing Director Marcus Luer. "If you actually think about what these athletes have to do, it is mind-blowing. The winner will have had to face three of the best fighters in the world in the space of a few hours. It is an incredible test of heart, skill and toughness.
"Not only that, but in such a tournament anything is possible. There are favorites of course – Petrosyan is the top seed and Kraus is top-tier – but tournaments throw up all sorts of variables. Tactics are important as well – some fighters play it safe and defensive as they try to avoid damage on the way to the final. Others try and blow through their opponents as quickly as possible to minimise their time in the ring. There will be some truly awe-inspiring performances."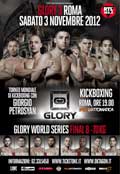 Event: GLORY 3 Rome
Date: 2012-11-03
Where: PalaLottomatica, Rome, Italy