GLORY 3 Rome Final 8 – Promo Video
In addition to the Glory World Series quarterfinals, GLORY 3 Rome fight card will also include two tournament reserve matches to determine replacements should any of the main tournament fighters be injured and unable to progress to the next round.
In the first, Yoshihiro Sato (49-18, 20 KO's) of Japan will face Dzhabar Askerov (73-28-1, 37 KO's) of Russia. Sato was narrowly defeated by Shemsi Beqiri in the Final 16 stage of the tournament in Sweden earlier this year while Askerov was eliminated by van Roosmalen after three absolutely furious rounds in which they gave each other hell.
In the second, the outstanding French talent Fabio Pinca (85-17-4, 32 KO's) will re-enter the fray after being eliminated in Sweden by Petrosyan. Superbly technical but flamboyant with it, he faces the rising Italian talent Alessandero Campagna (29-5, 14 KO's) in what will be the hardest test of the young fighter's burgeoning career.
UPDATE ON Novembre 1, 2012: Albert Kraus has been forced to withdraw from GLORY 3 Rome due to ill health (full-blown influenza). Yoshihiro Sato has been moved into Kraus' vacant slot and Warren Stevelmans will face Dzhabar Askerov for the first reserve match.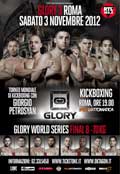 Glory 3 Rome fight card:
MAIN CARD
– Giorgio Petrosyan vs Robin van Roosmalen FINAL
– Jordan Watson vs Mustapha Haida – prestige fight 70kg
– Robin van Roosmalen vs Sanny Dahlbeck 2# SemiFinal
– Giorgio Petrosyan vs Davit Kiria 1# SemiFinal
– Alka Matewa vs Marco Re – prestige fight 72.5 kg
– Sanny Dahlbeck vs Yoshihiro Sato – 4# quarterfinal
– Robin van Roosmalen vs Tim Thomas – 3# quarterfinal
– Shemsi Beqiri vs Davit Kiria – 2# quarterfinal
– Giorgio Petrosyan vs Ky Hollenbeck – 1# quarterfinal
– Fabio Pinca vs Alessandro Campagna – reserve fight
– Dzhabar Askerov vs Warren Stevelmans – reserve fight
PRELIMINARY CARD
– Cesario di Domenico vs David Dolce – mma prestige fight 70kg
– Riccardo Lecca vs Giuseppe D'Amuri – prestige fight 72.5 Kg
– Manuele Raini vs Julian Imeri – prestige fight 70kg
– Ivan Musardo vs Giorgio Belsanti – mma prestige fight
Event: GLORY 3 Rome
Date: 2012-11-03
Where: PalaLottomatica, Rome, Italy