Video: Manny Pacquiao Media Workout
Check out the live stream of the media workout of Manny Pacquiao in preparation for the mega-fight against Floyd Mayweather Jr, scheduled on May 2nd, 2015 at the MGM Grand, Las Vegas, USA. The bout was finalized on February, 20th (Mayweather vs Pacquiao official announcement) while the only media event scheduled to promote the fight was held in March 11th: Mayweather vs Pacquiao Kickoff Press Conference.
Moreover If you missed the Mayweather media workout you can find it at the bottom of this post.
Link to the fight: Floyd Mayweather Jr vs Manny Pacquiao
For more boxing news on Pacquiao vs Mayweather stay tuned right here on AllTheBestFights.com. Here are all the news about the mega-fight:
Inside Mayweather vs Pacquiao – Episode 4 Epilogue
Mayweather vs Pacquiao post-fight press conference
Mayweather vs Pacquiao CompuBox Stats
Mayweather vs Pacquiao countdown live stream
Mayweather vs Pacquiao weigh-in video
Inside Mayweather vs Pacquiao – Episode 3
Mayweather vs Pacquiao Final Press Conference
Mayweather vs Pacquiao: Poll, picks and predictions
Mayweather vs Pacquiao: The Legends Speak Hbo
Inside Mayweather vs Pacquiao – Episode 2
Mayweather vs Pacquiao: 5 common opponents CompuBox Stats comparison
Mayweather vs Pacquiao: Statistics, info, numbers
Mayweather vs Pacquiao Hbo Preview + At Last
Inside Mayweather vs Pacquiao – Episode 1
Mayweather vs Pacquiao media workout
Mayweather vs Pacquiao Kickoff Press Conference
Mayweather vs Pacquiao official announcement
[php]
include("banner.php");
[/php]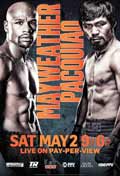 Event: Mayweather vs Pacquiao – MayPac
Date: 2015-05-02
Where: MGM Grand, Las Vegas, Nevada, USA
Division: welterweight (147 lbs, 66.7 kg)
Title: WBC, WBO and WBA World welterweight titles
Video: Mayweather media workout