Review: 2013-10-19, Mike Alvarado vs Ruslan Provodnikov was a really exciting fight as we expected. Alvarado came off three consecutive spectacular fights: two fights of the year candidate as Alvarado vs Herrera and Rios vs Alvarado 1 in 2012 and a great battle against Brandon Rios in their second fight, but also the Russian boxer came off the candidate for Fight of the Year 2013, a very controversial defeat against Timothy Bradley…
In this fight Provodnikov was the aggressor but Alvarado likes toe-to-toe fights and exchanging shot for shot, so the result was an action packed fight with also two knockdowns and a "touching finish" with the winner in tears hugging his mother: Alvarado vs Provodnikov is definitely one of the best boxing fights of 2013, four stars! Mike Alvarado (34-1-0, 23 KOs) entered as the No.4 light welterweight in the world while Ruslan Provodnikov (22-2-0, 15 KOs) entered as the No.6 (currently the #1 in this weight division is Danny Garcia). Alvarado vs Provodnikov is valid for the WBO light welterweight title (Alvarado's first defense). Watch the video!
[php]
include("adstext.php");
[/php]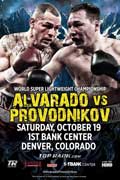 Date: 2013-10-19
Where: 1stBank Center, Broomfield, Denver, Colorado, USA
Division: light welterweight (140 lbs, 63.5 kg)
Title: WBO light welterweight title
Result: Click here to show the fight's result
Ruslan Provodnikov def. Mike Alvarado (retirement at 3:00, round 10)
Alvarado's previous fight: Brandon Rios vs Mike Alvarado 2
Provodnikov's previous fight: Timothy Bradley vs Ruslan Provodnikov
Alvarado's next fight: Juan Manuel Marquez vs Mike Alvarado
Provodnikov's next fight: Ruslan Provodnikov vs Chris Algieri
[php]
include("banner.php");
[/php]
Video:
We are sorry, but since we have been contacted by "Top Rank", we post only video highlights of the fight (as soon as we find it). If you have seen the full fight video you can rate it. THANKS!
Official highlights video

Alternative highlights video

Alternative highlights video