Junior dos Santos highlights
Junior 'Cigano' dos Santos is the current UFC Heavyweight Champion and is ranked as the number one heavyweight fighter in the world by numerous media outlets. He is undefeated in the UFC (MMA 15-1-0) and seven of the nine UFC victories came by way of knockout or TKO. In the two decisions he's had, dos Santos has made a mess of his opponents, so the word "unanimous" leaves no doubts (against Roy Nelson at UFC 117 and Shane Carwin at UFC 131).
Despite his great accomplishments, dos Santos is rarely mentioned in the mythical "pound-for-pound" discussion.
But a man could change this, if they ever meet: Jon 'Bones' Jones.
The UFC light heavyweight champion has teased for months about potentially moving up to heavyweight, and said recently he might even do so by the "end of 2013″. So a match between them could become a reality.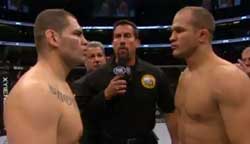 "People like to imagine a lot of things. Jon Jones is an amazing fighter. He's really good, he's so confident, and I like him a lot. He's very nice with me; I'm nice with him," dos Santos said about Jones recently.
A lot of respect, but dos Santos knows his own potential: "I've got the heavyweight belt. There is just one baddest man on the planet, and I think I am this guy now. If he moves up to the heavyweight division, I would think about that fight. If they put him in front of me to challenge me, we're going to fight. I will give my best".
The next time the heavyweight champion will compete is at UFC 155 in a rematch against Cain Velasquez the man he defeated to win the title (= Junior dos Santos vs Cain Velasquez 1). Following that, dos Santos will most likely face with former Strikeforce champion Alistair Overeem (= dos Santos vs Overeem news).
If dos Santos can survive these two insidious fights, a superfight with Jon Jones might happen at the end of 2013.
POLL: