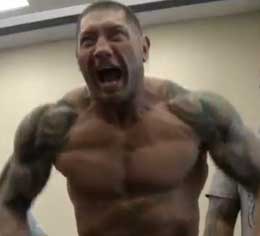 Dave Batista vs Vince Lucero full fight video
Just five days before his scheduled MMA debut, former WWE Champion Dave Batista finally knows who'll be his first MMA opponent: the veteran Vince Lucero.
The former candidates were all almost amateur fighters, with no professional bouts: Rashid Evans went to jail; Bruno McKee cited a lack of time to prepare.
Instead Vince Lucero is a legitimate experienced fighter, a 13-year-veteran with 45 bouts. Not a dummy.
The bulky fighter who cuts to make the 265-pound top limit of the heavyweight division, has fought twice this year on Rage in the Cage show. His last fight was a win on April 13 over Mike Martinez by split decision.
He fought also with Roy Nelson and Tim Sylvia. His record is 22-21-0.
So it will be a no easy match for Dave Batista, who maybe hoped to face a guy with no pro fights.
But he is "The Animal", isn't it?
Keep following us to see Batista's debut in MMA on Saturday!
Event: CES MMA: Real Pain
Date: 2012-10-06
Where: Dunkin' Donuts Center, Providence, Rhode Island, United States
Division: heavyweight (265 lbs, 120 kg)
Video: Batista debuts in Mma