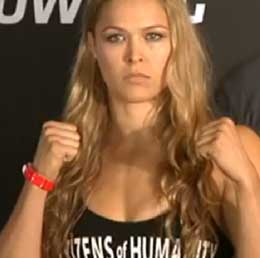 She is one of the most popular covers for this year's ESPN the Body Issue.
She is the the current Strikeforce Women's Bantamweight Champion and the first American woman to earn an Olympic medal in judo at the Summer Olympics.
She is undefeated and won all the matches by an impressive armbar in the first round.
She is Ronda Rousey, and everyone wants her. One on the top of the list is UFC president Dana White.
They were together at the recent Sons of Anarchy premiere for FX and the photographers were all for her. He is a huge fan of Ronda and said: "I absolutely, positively would bring Ronda Rousey into the UFC."
If so, Ronda would be the first woman to ever compete inside the Ufc Octagon.
A shining future for the beautiful former judoka? Surely until December. Because nearing Christmas, Ronda will receive a "hot" present: the end of the year suspension of Cris "Cyborg" for stanozolol, an anabolic steroid.
Cristiane 'Cyborg' Santos is the former Strikeforce Women's Featherweight Champion and lost only her first match, dominating all the next 11 fights. She is a machine, a cyborg. Her mission: destroy her opponent.
Her last match against Hiroko Yamanaka lasted only 16 seconds.
And now she wants revenge. In fact Ronda, after dislocating Miescha Tate's elbow and defendig her title against Sarah Kaufman (54 seconds), called Cris Santos "Cyroid" instead of "Cyborg", referring to Santos' failed drug test.
"I don't owe her anything. And she needs to fight me more than I need to fight her. There's a line [of opponents], they all want to beat me up now. So, really, she needs to come to me." — Rousey, explaining why Santos would have to come down to 135 pounds to face her.
Santos can make the weight, because we want this megabout.
And you? Do you want it?
Ronda Rousey vs Cristiane Cyborg Santos second post, October 9, 2012
Video: Cristiane Cyborg about Ronda Rousey

Video highlights Ronda Rousey: