Video UFC 153 weigh-ins
No incidents at Friday's official weigh-in at HSBC Arena in Rio de Janeiro for UFC 153. UFC middleweight champion Anderson Silva came in at 202 pounds, and veteran fighter Stephan Bonnar meet was 202 pounds.
In the co-main event, Antonio Rodrigo 'Minotauro' Nogueira (244) and Dave Herman (243) were just a pound apart for their heavyweight bout.
Silva comes from a streak of 16 consecutive victories, 14 of them finishes. His last match was at UFC 148 in July, when he defeated Chael Sonnen by technical knockout at the MGM Grand Garden Arena in Las Vegas (= Silva vs Sonnen 2). Silva has secured 25 of his 32 professional wins by knockout, technical knockout or submission, including Rich Franklin (twice) and Dan Henderson, Vitor Belfort, Forrest Griffin and Nate Marquardt. Undefeated inside the Octagon, he has not been legitimately defeated since the incredible Ryo Chonan's flying scissor heel hook in December 2004 (video at the bottom of this post), almost eight years ago!!!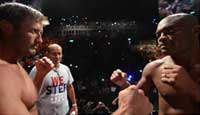 The 35-year-old Bonnar was a finalist on Season 1 of "The Ultimate Fighter" and has three-fight winning streak. His last match was in November against Kyle Kingsbury at UFC 139.
Tonight there will be other two light heavyweight duels, as Glover Teixeira (204) meets Fabio Maldonado (203) and Phil Davis (206) faces Wagner Prado (204), along with a couple of welterweight matchups, as Jon Fitch (170) faces Erick Silva (169) and Rick Story (170) goes against Demian Maia (170).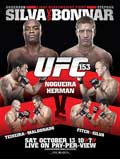 Event: UFC 153: Silva vs Bonnar
Date: 2012-10-13
Where: HSBC Arena, Rio de Janeiro, Brazil
UFC 153 weigh-in results:
MAIN CARD
(202) Anderson Silva vs Stephan Bonnar (205)
(244) Dave Herman vs Antonio Rodrigo Nogueira (243)
(203) Fabio Maldonado vs Glover Teixeira (204)
(170) Jon Fitch vs Erick Silva (169)
(206) Phil Davis vs Wagner Prado 2 (204)
(170) Demian Maia vs Rick Story (170)
PRELIMINARY CARD
(145) Rony Mariano Bezerra vs Sam Sicilia (146)
(155) Gleison Tibau vs Francisco Trinaldo (154)
(144) Diego Brandao vs Joey Gambino (146)
(169) Renee Forte vs Sergio Moraes (169)
(185) Chris Camozzi vs Luiz Cane (184)
(155) Reza Madadi vs Cristiano Marcello (155)
Video Anderson Silva vs Ryo Chonan at Pride Shockwave 2004, last defeat of Silva