Review: 2013-12-07, there is a good news and a bad news…we start with the good one: the second part of Silva vs Hunt was simply amazing, one of toughest battle ever, everything you could want from a candidate for Fight of the Year! But now the bad news: we usually rate the complete fight and the first part was not so exciting with both fighters throwing just a few shots and in such cases we can't give more than four stars; Antonio Silva and Mark Hunt were awarded "UFC Fight of the Night" honors. Antonio 'Bigfoot' Silva (18-5-0, 89% finishing rate) entered as the No.4 heavyweight in the world while Mark Hunt (9-8-0, 67% ko/tko victory rate – he has never won by submission) entered as the No.9 (currently the #1 in this weight division is Cain Velasquez). 'Bigfoot' Silva vs Hunt is the main event of UFC Fight Night 33; they also faced each other a second time on November 15, 2015 (=Mark Hunt vs Antonio Silva 2). Watch the video!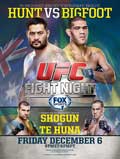 Event: UFC Fight Night 33: Hunt vs Bigfoot
Date: 2013-12-07
Where: Brisbane Entertainment Centre, Brisbane, Australia
Division: heavyweight (265 lbs, 120 kg)
Result: Click here to show the fight's result
Mark Hunt DRAW Antonio Silva (majority draw, 48-47, 47-47, 47-47)
UFC Ufn 33 fight card (main card):
Antonio 'Bigfoot' Silva vs Mark Hunt
Mauricio 'Shogun' Rua vs James Te Huna
Ryan Bader vs Anthony Perosh
Pat Barry vs Soa Palelei
Clint Hester vs Dylan Andrews
Bethe Correia vs Julie Kedzie
Silva's previous fight: Cain Velasquez vs Antonio Silva 2
Hunt's previous fight: Junior dos Santos vs Mark Hunt
Silva's next fight: Antonio Silva vs Andrei Arlovski 2
Hunt's next fight: Mark Hunt vs Roy Nelson
Video:
We are sorry, but since we have been contacted by "UFC – Zuffa", we post only video highlights of the fight (as soon as we find it). If you have seen the full fight video you can rate it. THANKS!
(This is a free embeddable highlights video hosted on springboardplatform.com – users:"bjpenn")

(Alternative highlights video hosted on youtube)