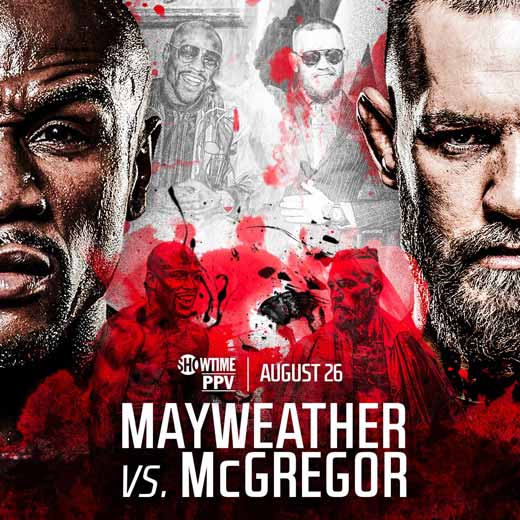 After months of speculation and rumors, the official announcement of Floyd Mayweather Jr vs Conor McGregor has been made: one of the biggest boxing events ever and, certainly, the biggest sporting event of 2017. Mayweather vs McGregor will be a 12-round boxing match with both fighters using 10-ounce boxing gloves instead of the smaller UFC/Mma gloves. The two superstar athletes will meet in a 154-pound bout on August 26th, 2017, at the T-Mobile Arena, Las Vegas, Nevada, United States and it will be broadcasted on Showtime but Mayweather Promotion will build the card.
The undefeated 'Money' Mayweather (40 years old and eleven years older than the Ufc fighter) will enter the ring with a perfect boxing record of 49-0-0 (26 knockouts) and he was ranked as the No.1 boxing welterweight (147 lbs, 66.7 kg) and No.1 pound for pound in the world until his last fight against Andre Berto (September 12, 2015, Mayweather vs Berto) while 'The Notorius' McGregor is at his professional boxing debut but he has a mma record of 21-3-0 (90% finishing rate) and he is the No.1 mma lightweight (155 lbs, 70 kg) and No.7 P4P.
And now let's see two interviews released by the two fighters about this megafight.
Floyd Mayweather Jr interviews:
[php]
include("banner.php");
[/php]
Link to the fight: Mayweather vs McGregor fight video
Conor McGregor interviews:


Event: Mayweather vs McGregor
Date: 2017-08-26
Where: T-Mobile Arena, Las Vegas, Nevada, USA
Division: light middleweight (154 lbs, 69.9 kg)
For more news on McGregor vs Mayweather stay tuned right here on AllTheBestFights.com. Here are all the news about the mega-fight:
Mayweather vs McGregor – Post-fight press conference video
Mayweather vs McGregor CompuBox Stats
Mayweather vs McGregor weigh-in video
Mayweather vs McGregor Final Press Conference
Mayweather vs McGregor: Statistics, info, numbers
Mayweather vs McGregor Poll, picks and predictions
All Access: Mayweather vs McGregor Episode 4
Conor McGregor Media Conference Call
All Access: Mayweather vs McGregor Episode 3
Conor McGregor open workout
Floyd Mayweather Jr open workout
All Access: Mayweather vs McGregor Episode 2
All Access: Mayweather vs McGregor Episode 1
Mayweather vs McGregor kickoff press conference
Mayweather vs McGregor press conference media tour
Mayweather vs McGregor official promo
Mayweather vs McGregor official announcement