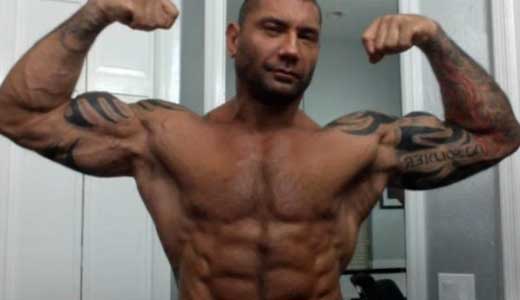 Dave 'Batista' Bautista vs Vince Lucero full fight video
First: Finally David Batista'll make his first appearance in MMA on October 6 at the Dunkin Donuts Center in Providence, R.I., in the main event of a pay-per-view show called, "CES MMA: Real Pain."
Second: the opponet is a mystery yet. (Read the last news on Batista Mma debut)
Batista is a former World Wrestling Entertainment headliner. He began his WWE career on 9 May 2002, after a past as bouncer and huge bodybuilder (at his best he was at 6-foot-4 and 320 pounds), having in fact never competed at any significant level in wrestling (different story for Brock Lesnar, another WWE star that came to MMA, who was an NCAA champion before pro wrestling).
His rise was fast and straight, and Batista won his first World Heavyweight Championship on 3 April at WrestleMania 21 in a spectacular match against his ex leader Triple H. The show did 1,090,000 worldwide pay-per-view buys, at the time the largest non-boxing number for any pay-per-view event in history.
After 3 years of dominance, his reign began to fall down, mainly because of several injuries. So finally he left WWE when his contract expired in May 2010.
After that he tried to enter in the MMA world. Batista had announced that he and Strikeforce were negotiating a contract. However in April 2011, Batista announced that negotiating fell through when Strikeforce was bought by Zuffa.
Now the moment has come. Batista is 43 and he has to prove to be still an "Animal" and not a old and weary lion.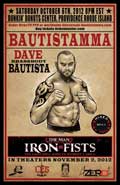 Bautista's original opponent was Rashid Evans (attention! Not Rashad Evans), whose main claim to fame is that his name would be easily confused with one of the biggest stars in the sport. The problem is that Evans was incarcerated, but according to trainer Phil Dunlap of Advanced Fighting Systems in Mahwah, N.J., they were able to get him released based on the fact he was given this opportunity.
According to Dunlap, Evans violated the terms of his probation, when caught driving without his license. Now he's back in jail and won't be out until after the fight.
The opportunity then passed to Bruno McKee, a super heavyweight at his gym that also would have been making his pro debut. But also McKee, who is compared with Tank Abbott, pulled out, because of nerves and a not optimal shape.
Pat Sullivan, who is promoting the show for Classic Entertainment & Sports, Inc., said that there was a new opponent, but he didn't told the name.
Keep following us for the fight video and more news about the mystery opponent.
Event: CES MMA: Real Pain
Date: 2012-10-06
Where: Dunkin' Donuts Center, Providence, Rhode Island, United States
Division: heavyweight (265 lbs, 120 kg)
Video: Batista's interviewt about his upcoming MMA debut