Less than 15 days to UFC 153 (October 13, 2012 at the HSBC Arena in Rio de Janeiro, Brazil), but the questions at a press conference for promoting the bout are all for Silva's future. In particular the alleged fear of the "Spider" to face Chris Weidman, who is coming off dominant back-to-back wins over top-10 opponents.
"Everything has its time. He'll have his opportunity to fight for the belt. Maybe I fight next before he gets the shot, I lose and he fights someone else. We don't know. I can fight Bonnar, lose and say: 'you know what, I don't want it anymore'. Or maybe I win and way 'I don't want this anymore'. Or maybe drop to welterweight or move up to heavyweight. Anything can happen. Every UFC fighter will have their chance. You have to work and wait for your opportunity… I hope that [Georges St Pierre is] my next fight. I believe everybody wants to see that fight" Silva told.
Weidman doesn't believe Silva would purposely avoid a fight, but he does feel like Silva's managers are trying to avoid a bad style matchup. However, Weidman is scheduled for a match against Tim Boetsch, on December 29.
Even if Silva and Weidman both walk away victorious, there is talk of a "dream match" between The Spider and UFC welterweight champ Georges St Pierre.
Silva seems very eager to face St Pierre, but the bout hinges on the outcome of St Pierre's upcoming fight with Carlos Condit and whether or not the welterweight champ agrees to move up in weight. GSP has consistently not answered questions from the media in regards to going up in weight to fight Silva.
And Lyoto Machida? With his friend still in the title mix at light heavyweight, it wouldn't be too surprising to see Silva take a fight at heavyweight.
For now Silva's future remains a question mark.
The only certain thing is that he isn't interested in facing Jon Jones.
Can you blame him?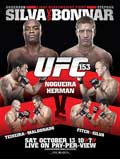 Event: UFC 153: Silva vs Bonnar
Date: 2012-10-13
Where: HSBC Arena, Rio de Janeiro, Brazil