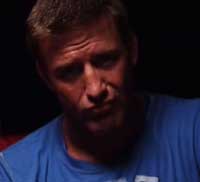 Stephan Bonnar confirmed his retirement via Facebook following UFC President Dana White's announcement during a MetroPCS chat on Tuesday night.
'The American Psycho' (15-8 MMA, 8-7 UFC), 35 years old, recently was on a three-fight win streak, before facing the legend Anderson 'The Spider' Silva: after an 11-month layoff, the light heavyweight Bonnar in fact returned to the cage this past month at UFC 153 in a late-notice opportunity in Brazil against dominant UFC middleweight champion Anderson Silva in a 205-pound non-title fight.
The match had no story, he lost via first-round TKO and Silva seemed to mock him during some exchanges (= Anderson Silva vs Stephan Bonnar)
"Huge thanks to every UFC fan out there!" Bonnar stated on Facebook. "All I ever wanted was to bring ya'll some fun…hope u were entertained. Peace, love, & violence!".
Bonnar always had a special place in UFC President Dana White's heart. At the TUF 1 Finale in 2005, Bonnar and Forrest Griffin had a great fight and the bout came at a crucial time during the UFC's move into the mainstream, and, although Bonnar lost the fight via decision, White long has credited it for the sport's popularity surge.
Thank you Stephan!
Video Stephan Bonnar's interview on Anderson Silva's knee: