UFC 156 Aldo vs Edgar video trailer
UFC featherweight champion Jose Aldo (21-1 MMA, 3-0 UFC) will face former UFC lightweight champion Frankie Edgar (14-3-1 MMA, 9-3-1 UFC) on Super Bowl weekend in Las Vegas, on February 2, 2013.
The UFC had held a Las Vegas pay-per-view event on the eve of the NFL's Super Bowl every year since 2004, usually at the Mandalay Bay Events Center.
Aldo and Edgar were expected to be the headliners of UFC 153, which took place earlier this month in Brazil, but Aldo had a motorcycle accident that forced him out, so Anderson Silva ended up facing Stephan Bonnar in the night's main event.
Aldo has an impressive 14 victories in a row. His last loss happened in 2005 against Luciano Azevedo. He is a fighting machine and his last match confirmed this: ask Chad Mendes for more information (= Jose Aldo vs Chad Mendes).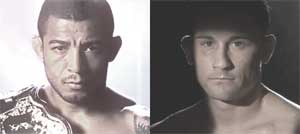 On the other hand, Edgar fights for the first time at 145-pounds after a 13-fight run in the octagon as a lightweight. "The Answer" won the UFC's lightweight title with an April 2010 before losing it against Benson Henderson (= Ben Henderson vs Edgar). Edgar also faced Henderson in a rematch, but he didn't have more luck (= Benson Henderson vs Edgar 2).
The 31-year-old Edgar now looks to join Randy Couture and B.J. Penn as the only men to hold UFC championship belts in two different divisions.
Event: UFC 156: Aldo vs Edgar
Date: 2013-02-02
Where: Las Vegas, Nevada, United States
Division: featherweight (145 lbs, 66 kg)
Title: UFC Featherweight Championship title
Video Frankie Edgar's interview: