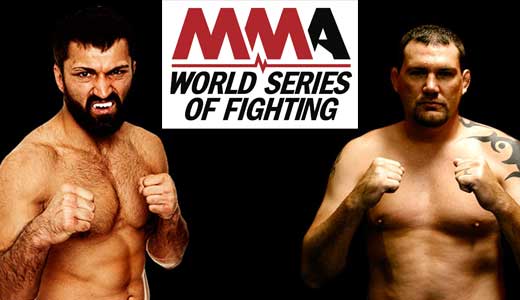 Las Vegas. Saturday, November 3. Main event of the inaugural World Series of Fighting Mixed Martial Arts fight card. At the Planet Hollywood Resort & Casino hard-hitting heavyweight KO artists Andrei "The Pitbull" Arlovski (17-9-0) of Minsk, Belarus and Devin Cole (20-9-1) of Medford, Ore, will collide. And we aspect a great "bang".
World Series of Fighting President Ray Sefo said announcing the match: "Both of these heavyweights have delivered some incredibly memorable highlights during their careers and their matchup should be a barnburner."
The 33-year-old, 6-foot-4, 250 pound Arlovski made his first major statement in the sport of MMA, winning the interim UFC heavyweight championship by forcing rival Tim Sylvia to tap out from a heel hook just 47 seconds into their matchup on Feb. 5, 2005. It was a real "big bang".
Four months later, Arlovski defended his title, toppling Justin Eilers with an onslaught of punches in the first round (after the fight, it was revealed that Eilers suffered extensive injuries in this match including a badly broken nose, two broken hands and a complete ACL tear).
Arlowski, known for his unusual speed, knockout power, and for his powerful kicks, is also the only man to ever KO Roy Nelson.
His opponent, Devin Cole, 35-year-old, 6-foot-4, 250 pound, has earned 10 of his 20 career victories by way of KO, but he is not only a pure striker. He is a lifelong wrestler as well. In 2003 he burst onto the MMA scene, winning 10 of first 11 professional bouts. Amongst his best conquests to date are those over Travis Wiuff, Mike Kyle, DJ Linderman and Mike "300" Hayes. In short words he is a tough bone. Will the Pitbull succeed to snap it? Continue to follow us and you'll know it!
In other main card action, bantamweight (135 pounds) superstar Miguel Angel Torres (40-5-0) will battle an opponent to be announced. Brazilian Jiu-Jitsu black belt Gregor Gracie (7-2-0) of Rio de Janeiro will face off with red-hot prospect Tyson Steele (9-1-0) in a welterweight (168 pounds) contest; Josh Burkman (23-9-0) will battle fellow star Gerald "Hurricane" Harris (21-4-0) in a welterweight bout, Ronys Torres (25-4-0) will face submission specialist Brian Cobb (19-7-0) in a lightweight matchup and Gesias Cavalcante (16-6-1) will take on John Gunderson (34-14-2).
Event: WSOF – World Series of Fighting 1
Date: 2012-11-03
Where: Planet Hollywood Resort & Casino, Las Vegas, Nevada, United States
Video Andrei Arlvoski highlights: