Review by

AllTheBestFights.com

:
2015-02-28, great start and spectacular finish:
Ronda Rousey vs Cat Zingano
it's the first
mma fight of the year 2015
to get four stars (UFC Performance of the Night).
Both undefeated, the black belt in judo and former Strikeforce Bw champion Ronda Rousey entered this fight with a perfect mma record of 10-0-0 (100% finishing rate) and she is ranked as the No.1 women's bantamweight in the world while her opponent, Cat Zingano, has an official record of 9-0-0 (89% finishing rate) and she entered as the No.4 in the same weight class. Rousey fought twice in 2014 beating Sara McMann (=Rousey vs McMann) and Alexis Davis (in just 16 seconds, Rousey vs Davis) while Zingano fought just once defeating Amanda Nunes (=Zingano vs Nunes). The only common opponent faced by Ronda and Cat was Miesha Tate: 'Rowdy' beat her in just one round in 2012 (mma Fight of the Year candidate Rousey vs Tate I) and in three rounds in 2013, both times thanks to her signature armbar submission (=Rousey vs Tate II), while 'Alpha' Zingano defeated Miesha by tko in three rounds (4-stars-fight, Tate vs Zingano). Rousey vs Zingano, main event of Ufc 184, is valid for the Ufc women's bantamweight title (held by Rousey). Watch the video and rate this fight!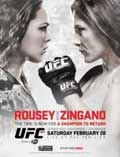 Event: UFC 184: Rousey vs Zingano
Date: 2015-02-28
Where: Staples Center, Los Angeles, California, USA
Division: bantamweight (135 lbs, 61 kg)
Title: UFC Women's Bantamweight Championship title
Result: Click here to show the fight's result
Ronda Rousey def. Cat Zingano (Submission straight armbar at 0:14, round 1)
UFC 184 fight card (main and best fights):
Ronda Rousey vs Cat Zingano
Holly Holm vs Raquel Pennington
Josh Koscheck vs Jake Ellenberger
Alan Jouban vs Richard Walsh
Tony Ferguson vs Gleison Tibau
Tim Means vs Dhiego Lima
Rousey's next fight: Ronda Rousey vs Bethe Correia
Zingano's next fight: Cat Zingano vs Julianna Pena
Official video:

OFFICIAL VIDEO
If you encounter the "Error #2000″, use the incognito mode or use other browsers, enjoy!-)