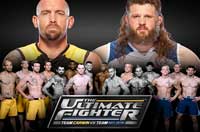 Another knee injury takes out a fighter of the UFC roster. "It never ends" the UFC president Dana White
said on Twitter. Shane Carwin (12-2 MMA, 4-2 UFC) is out of his fight against Roy Nelson (17-7 MMA, 4-3 UFC). They were expected to fight in the main event of the TUF 16 Finale on December 15 at The Joint at Hard Rock Hotel & Casino in Las Vegas.
White said that Carwin blew out his knee and he has already begun searching a new fighter to face Nelson. Carwin and Nelson coached opposite teams on the current 16th season of "The Ultimate Fighter".
The other main event remains Pat Barry (7-5 MMA, 4-5 UFC) vs Shane del Rosario (11-1 MMA, 0-1 UFC) (>> News on Pat Barry vs del Rosario).
Shane Carwin (age 37) is former UFC Interim Heavyweight Champion (won against Frank Mir at UFC 111 with a great punch and lost against Brock Lesnar four months later).
His last match was a great battle with Junior dos Santos at UFC 131, a match that according to many people had to be stopped earlier.
Now the time of his return is unknown and his future is uncertain.
Nelson, who comes from a 2-2 streak (victories with Dave Herman and Mirko 'Crop Cop' Filipovic), now waits to know who'll be his opponent.
Event: TUF 16 Finale – The Ultimate Fighter 16 Finale
Date: 2012-12-15
Where: Hard Rock Hotel and Casino, Las Vegas, Nevada, USA
Video Shane Carwin highlights: