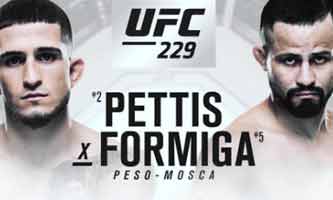 Review by

AllTheBestFights.com

:
2018-10-06, disappointing fight between
Jussier Formiga da Silva and Sergio Pettis
: it gets two stars.
The black belt in Bjj and judo Jussier Formiga da Silva entered this fight with a pro record of 21-5-0 (48% submission victory rate – he has never won via ko/tko) and he is ranked as the No.3 flyweight in the world (currently the #1 in this division is Henry Cejudo). He lost to Ray Borg in 2017 (Formiga vs Borg) but then he has beat Ulka Sasaki (Jussier Formiga da Silva vs Yuta Sasaki) and Ben Nguyen (Jussier Formiga da Silva vs Ben Nguyen).
His opponent, the black belt in tae-kwon-do Sergio Pettis, has an official mma record of 17-3-0 (35% finishing rate) and he entered as the No.4 in the same weight class. He was defeated by Henry Cejudo last year (Henry Cejudo vs Sergio Pettis) but he came back to win in 2018 with Joseph Benavidez (Joseph Benavidez vs Sergio Pettis). Formiga vs Pettis is on the undercard of Khabib Nurmagomedov vs Conor McGregor – UFC 229. Watch the video and rate this fight!