Video UFC 154 post-fight presser highlights
It's been a war. The main event of UFC 154 Georges St Pierre vs Carlos Condit has been a great match, with the crowd of the Montreal's Bell Centre on its feet for most of the fight. Between them there was also 'The Spider' Anderson Silva.
The faces of the two opponents at the press fight speak for themselves: they give everything they got.

At the end of the match the victory went to GSP by unanimous decision, but Condit could go out head-on.
Elbows, high kicks, punches, blood, wrestling…we had a lot of fun during this match!!!!
"People talk about ring rust," St Pierre said. "I definitely know what it is now. Credit to Carlos. He gave me my toughest fight."
Now the next obstacle will be Anderson Silva? "I was focusing on Carlos Condit 100 percent, and I need to take some vacation and think about it," St Pierre answered. "I want to make my best choice for myself, the UFC and the fans."
UFC 154 results:
MAIN CARD
Georges St Pierre def. Carlos Condit by unanimous dec (49-46, 50-45, 50-45)
Johny Hendricks def. Martin Kampmann by knockout (punch) – Round 1, 0:46
Francis Carmont def. Tom Lawlor by split decision (29-28, 28-29, 29-28)
Rafael dos Anjos def. Mark Bocek by unanimous decision (30-27, 30-27, 30-27)
Pablo Garza def. Mark Hominick by unanimous decision (29-27, 30-26, 29-28)
PRELIMINARY CARD
Patrick Cote def. Alessio Sakara by disqualification (illegal strikes) – Round 1, 1:26
Cyrille Diabate def. Chad Griggs by submission (rear-naked choke) – R1, 2:24
John Makdessi def. Sam Stout by unanimous decision (30-27, 29-28, 30-27)
Antonio Carvalho def. Rodrigo Damm by split decision (28-29, 29-28, 29-28)
Matt Riddle def. John Maguire by unanimous decision (30-27, 30-27, 29-28)
Ivan Menjivar def. Azamat Gashimov by submission (armbar) – Round 1, 2:44
Darren Elkins def. Steven Siler by unanimous decision (30-27, 30-27, 30-27)
UFC 154 bonus:
Johny Hendricks, Ivan Menjivar, Georges St-Pierre and Carlos Condit each earned $70,000 bonuses at Saturday's UFC 154 event.
Hendricks won the "Knockout of the Night" award, Menjivar the "Submission of the Night" bonus, and St-Pierre and Condit earned "Fight of the Night" honors.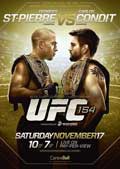 Event: UFC 154: St Pierre vs Condit
Date: 2012-11-17
Where: Bell Centre, Montreal, Quebec, Canada
Video UFC 154 GSP and Condit post-fight interviews: