SuperKombat WGP 2012 Final Elimination video promo
Scheduled on November 10 in Craiova, Romania, it's time for one of the biggest European event from this autumn: SuperKombat WGP 2012 Final Elimination.
The main event is a super fight between Carter Williams vs Catalin Morosanu.
Carter 'The Beast' Williams is a former North American Muay Thai champion and K-1 World GP in Las Vegas tournament champion. During his career he shifted from kickboxing to MMA and then again to kickboxing.
He has an overall kick boxing record of 34-20-2 (1nc) and MMA record of 4-4-0 and he's known for a great match with Ray Sefo at K-1 World Grand Prix 2003 in Japan. His last match was a loss against Gokhan Saki at Glory World Series: Stockholm on May 26, 2012.
Catalin 'The Carpathian Death' Morosanu has a very good record (33-5-0) and comes from 11 victories in a row. He holds notable victories over Gary Goodridge, Freddy Kemayo, Stefan Leko, Mighty Mo, Anderson "Braddock" Silva and Paul Slowinski. He has stated that he is a fan of Bob Sapp.
In his last match he defeated Paul Slowinski by decision at K-1 World Grand Prix 2012 in Tokyo Final 16 (= Paul Slowinski vs Catalin Morosanu).
Regarding the Final Elimination, our favorite is Ismael Londt from Suriname. 'Mr Pain' (30-3-1) is a powerhouse: 6 ft 5 in, 243 lb. But if he wants to win the tournament, on his road he could face a kickboxing living legend: Alexey Ignashov. 'The Red Scorpion' is a four-time Muay Thai World champion, K-1 World GP 2003 in Paris and K-1 World GP 2001 in Nagoya tournament champion.
In his 103 matches he took 83 wins, but he has lost 3 of his last 6 fights (the last one with Tomas Hron two weeks ago).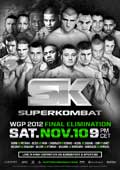 SuperKombat WGP 2012 Final Elimination fight card:
Carter Williams vs Catalin Morosanu – superfight
James Wilson vs Ionut Iftimoaie – superfight
Petr Vondracek vs Radu Spinghel – superfight
QUARTERFINALS
Benjamin Adegbuyi vs Sergei Lascenko
Roman Kleibl vs Sebastian Ciobanu
Pavel Zhuravlev vs Freddy Kemayo
Daniel Sam vs Ismael Londt
Ibrahim Aarab vs Dzevad Poturak – superfight
Dmitri Bezus vsTomas Hron – superfight
Event: SuperKombat WGP 2012 Final Elimination
Date: 2012-11-10
Where: Polyvalent Hall, Craiova, Romania
Division: heavyweight (over 210 lbs, 95.5 kg)
Video Alexey Ignashov highlights: