Review by

AllTheBestFights.com

:
2016-09-16, exciting back and forth battle with some tough exchanges from the first bell:
Shinsuke Yamanaka vs Anselmo Moreno 2
is one of the
best boxing fights of 2016
and it gets four stars!
The undefeated Wbc champion Shinsuke Yamanaka entered this fight with a professional boxing record of 25-0-2 (17 knockouts) and he is ranked as the No.1 bantamweight in the world. He won the Wbc belt in 2011 against Christian Esquivel (=Yamanaka vs Esquivel) and since then he has successfully defended it ten times beating Liborio Solis in 2016 (=Yamanaka vs Solis).
His opponent, the former Wba Bw champion Anselmo Moreno, has an official record of 36-4-1 (12 knockouts) and he entered as the No.6 in the same weight class but he lost two out of his last three fights, against Juan Carlos Payano (=Moreno vs Payano) and Yamanaka in their first bout (=Yamanaka vs Moreno). After this fight he has beat Suriyan Sor Rungvisai (=Moreno vs Suriyan). Yamanaka vs Moreno 2 is valid for the WBC World bantamweight title. Watch the video and rate this fight!
[php]
include("banner2.php");
[/php]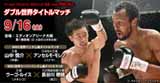 Date: 2016-09-16
Where: Edion Arena Osaka, Osaka, Japan
Division: bantamweight (118 lbs, 53.5 kg)
Title: WBC World bantamweight title
Result: Click here to show the fight's result
Shinsuke Yamanaka def. Anselmo Moreno (TKO at 1:09, round 7)
Yamanaka's previous fight: Shinsuke Yamanaka vs Liborio Solis
Moreno's previous fight: Anselmo Moreno vs Suriyan Sor Rungvisai
Yamanaka's next fight: Shinsuke Yamanaka vs Carlos Carlson
Moreno's next fight: Anselmo Moreno vs Julio Ceja
[php]
include("banner.php");
[/php]
Video: (Free embeddable video hosted on Youtube and not uploaded by AllTheBestFights, to report it please visit this link where the video is hosted)